CHEER CHAMPION OF THE WEEK: UNIVERSITY HOSPITAL SAN ANTONIO!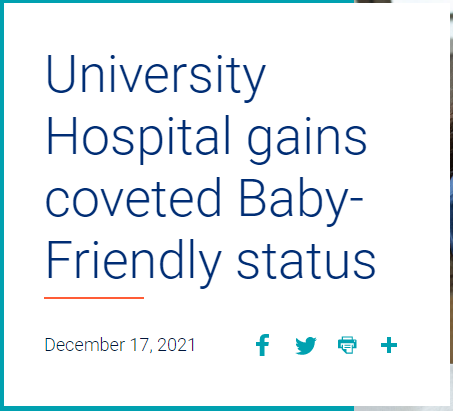 Congratulations to University of Hospital in San Antonio on their recent Baby-Friendly designation! University Hospital was one of our CHAMPS South hospitals and about 3,200 babies are born there every year. Their success comes after eleven years of groundwork and four years of focused policy and practice changes.
"It makes me proud to walk around the unit and see change in practice. This makes the first few hours and days of the infant's life less stressful all around, because mom is within reach when newborn care is being provided."- Kate McLachlan, Certified Lactation Consultant and Baby-Friendly Lead at University Health.
The recent Baby-Friendly certification is a testament to University Hospital's resilience and determination to improve the maternity practices for mothers, newborns, and their families.
Learn more about the hospital's Baby-Friendly journey here.