ROBERT WOOD JOHNSON FOUNDATION HEALTHY EATING
RESEARCH GRANT
Project Status: Completed, February 2020 through May 2022
CHEER was awarded a Healthy Eating Research grant from the Robert Wood Johnson Foundation (RWJF) to evaluate Mississippi CHAMPS (Communities and Hospitals Advancing Maternity Practices); a multi-sectoral, real-world, public health initiative aimed at advancing health equity in infant feeding, through application of the RE-AIM framework.
This project was designed to improve the actionable research base for the achievement of health equity in breastfeeding, by performing a retrospective RE-AIM analysis of Mississippi CHAMPS. RE-AIM (Reach, Effectiveness, Adoption, Implementation, and Maintenance) is an implementation science-based framework, which has been used in a wide range of clinical, multi-sectoral, and public health settings to assess the impact of initiatives and interventions at the individual (target population) and organizational (institutional/stakeholders) levels, with a focus on underserved populations.
Project Activities:
Qualitative and Quantitative Data Collection and Analysis:

CHEER collected and analyzed the data necessary to measure the different components of the RE-AIM framework and published our findings in the Maternal and Child Nutrition journal. When assessed using RE-AIM criteria, we found that Mississippi CHAMPS demonstrated broad, measurable, positive, quantitative and qualitative outcomes. Read the open access article below: MCN Article

HER Annual Meeting 2020 Poster Presentation:


CHEER Director, Anne Merewood, did a live poster presentation at the HER Annual Meeting in March 2020.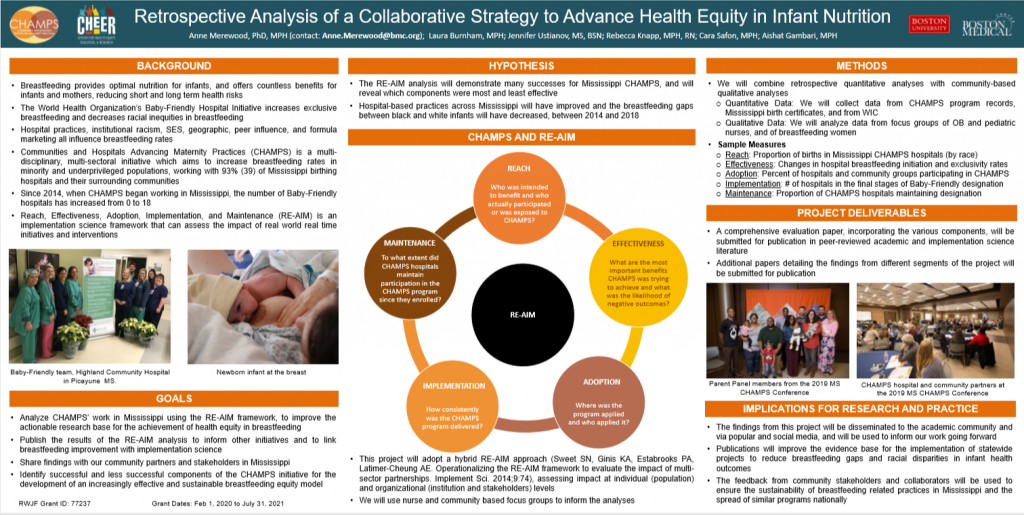 NOPREN HER Breastfeeding Sub-group:
CHEER spearheaded and facilitated the HER Breastfeeding Sub-group, which consisted of other HER grantees and affiliates who are interested in breastfeeding and maternal-child health work. We connected with the Sub-group members through monthly meetings, which often featured targeted presentations, important discussions about pertinent issues and new developments in the field, and opportunities for collaboration.