CHEER CHAMPION OF THE WEEK: LAUREN J. TURNER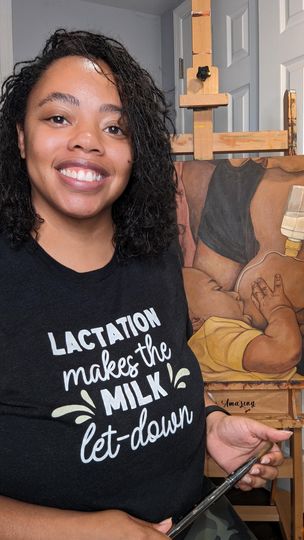 Lauren J. Turner is a mother, artist, and doula. She is incredibly passionate about Black maternal health and uses her art to advocate for birth and lactation and celebrate the moments of parenthood.

"Through my art, I'm able to capture the beauty and joy of the childbirth experience, demystifying the process and showing the power of parenthood," shares Lauren. "Overall, being a mother, artist, and birth worker has been an incredible journey that has allowed me to connect with others and make a positive impact in their lives."
Lauren's art has been exhibited in galleries across the United States and featured in numerous publications. She is also the founder of Birth Nerds, a clothing and sticker company dedicated to starting healthy conversations around birth and lactation.
CHEER is thrilled to celebrate Lauren as our CHAMPion of the Week! To learn more about Lauren and view her artwork, visit laurenjturnerfineart.com.