CHEER CHAMPION OF THE WEEK: ANDERSON REGIONAL MEDICAL CENTER!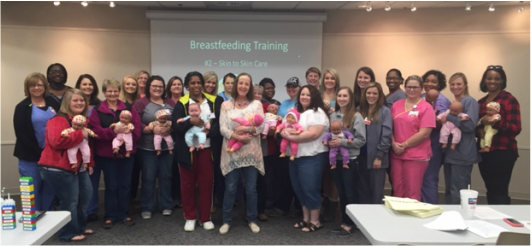 If you live near Meridian, Mississippi, you may have seen these eye-catching billboard images showing a mother and infant doing skin-to-skin with the slogan "Being close is best." They are part of a unique and exciting campaign by CHAMPS hospital Anderson Regional Medical Center to raise public awareness about breastfeeding and skin-to-skin! Currently, the images are rotating on 2 digital billboards on major highways in Meridian (Hwy 19 across from Meridian Community College and Hwy 39).
Anderson Regional has also taped a "Medical Minute" (see April 5 post on their Facebook page) in which one of their nurses, Judy Guasco RN, spoke about the benefits of skin-to-skin for both mother and baby. This video aired March 31, 2016 on their local Fox channel. In addition, they have taped several short videos using their nursing staff focusing on topics such as the benefits of breastfeeding, breastfeeding cues, skin-to-skin contact, and rooming-in. Their plan is to post one video or message per month about breastfeeding/skin-to-skin, etc. to provide ongoing education and awareness.
Anderson Regional, with approximately 1,348 births per year, serves communities in East Mississippi and West Alabama. They have a level II neonatal intensive care unit, and 75% of their maternity population receives public health insurance. They enrolled with CHAMPS on May 6, 2015 with the following goals in mind: to perform skin-to-skin for all vaginal births that meet the criteria; to improve their exclusive breastfeeding rates through education with staff and patients; and to offer education and encouragement to increase the number of hours and days of rooming-in.
Christi Jones MSN, RNC is the Maternal Child Clinical Director and CHAMPS Team Lead at Anderson Regional. She and Marketing Director Elizabeth Wiggins were involved in the decision to create and display the skin-to-skin billboards. By displaying the billboards, they are hoping to achieve "public interest in the concept of skin-to-skin contact," says Christi. As they continue to work on improving their breastfeeding and maternity practices, they may look into another area of focus to raise public awareness. CHAMPS applauds Anderson Regional for this innovative initiative!
Note: This post has been transferred from CHAMPSbreastfeed.org.  There were originally 2 comments.  You can view it in this document.