CHEER CHAMPION OF THE WEEK: KIMARIE BUGG!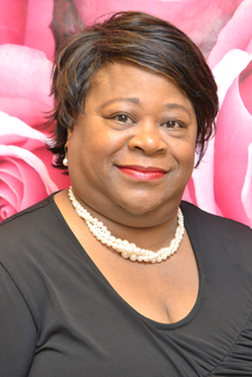 CHEER is thrilled to announce the recipient of our 2018 Lifetime Achievement Award: Kimarie Bugg, DNP, RN, MPH, IBCLC, CLC, for her long-standing dedication to breastfeeding and maternal child health equity! Kimarie is the Co-Founder, President/CEO, and Change Leader for Reaching Our Sisters Everywhere (ROSE), a nonprofit developed in 2011 to address breastfeeding inequities in the African-American community. CHEER's Communities and Hospitals Advancing Maternity Practices (CHAMPS) program has partnered with ROSE since its incipiency in 2014, and has the pleasure to host Kimarie as our Community Engagement Director. Throughout her career, Kimarie has tirelessly served families, trained health care providers, managed programs, advised national efforts, and led the charge for breastfeeding health equity amongst typically underserved communities in the United States. In this, her life exemplifies exactly the kind of work CHEER seeks to uphold!
Regarding her professional vision, Kimarie states that, on the basis of the equity-focused work of Dr. Gail Christopher, "I believe that Truth, Racial Healing and Transformation can take place in marginalized communities, starting with Breastfeeding."
Kimarie's passion for her work springs from seeds planted in her youth and early motherhood. As a 12-year-old, Kimarie helped her grandmother, a lay midwife in Arkansas, in the fulfillment of her own life calling. It was that experience, says Kimarie, that gravitated her life's work towards the support of mothers and infants. Years later, in 1978, after finishing a nursing degree in Texas, Kimarie gave birth to her first children, a set of twins. Despite her commitment towards the natural first-food lifestyle, she struggled to get breastfeeding support from her local hospital and struggled to breastfeed. She "failed miserably" she says, and became determined to learn everything she could about breastfeeding. She didn't want other mothers to experience the disillusionment with lactation that she had.
"I took a year and I read everything I could get my hands on about breastfeeding. Nurses and doctors I worked with started to call me the breast nurse," she says.
Early in her career, Kimarie moved to Atlanta, where she has spent the past 30 years promoting breastfeeding support and education, especially amongst African-Americans. She has worked in a pediatric emergency clinic and special care nursery, has been a bedside breastfeeding counselor in a large metropolitan hospital, and has managed perinatal and breastfeeding programs at the state level. Kimarie has served as a technical advisor to Best Start, the US Baby-Friendly Hospital Initiative, and the National Institute for Children's Health Quality's Best Fed Beginnings program. She was a founding member and officer of the Georgia Breastfeeding Coalition and the Southeastern Lactation Consultant Association. Kimarie received additional training at Wellstart International, and has traveled throughout the United States and several foreign countries training health care professionals to manage lactation. She combined all these skills and passions during her tenure at Emory University's School of Medicine as a nurse practitioner.
In 2011, when a budget cut left her without work, Kimarie took the advice of her pastor who said, "you were released for increase," and founded ROSE, alongside two other women. Since then, not only has Kimarie's work increased, but the work of ROSE itself has increased from a regional to a national scale. In 2017, ROSE was awarded a $1.1 million grant from the W.K. Kellogg Foundation, which has allowed them to look at breastfeeding disparities at a national level and spread the blueprint of ROSE's work across the country.
ROSE's vision is for 82% of African-American babies to receive breast milk at birth by 2020, a goal set forth by the Surgeon General of United States. ROSE's mission is to "address breastfeeding disparities to improve health equity among people of color nationwide through culturally competent training, education, advocacy, and support." Kimarie and her staff seek to fulfill this vision and mission through a number of strategies and programs, including: their staple "Community Transformers (CTs)" program, which trains mothers with positive breastfeeding experiences to provide peer support to other mothers in their community; participating in health care leadership and policy-making; providing technical assistance to agencies regarding Steps 3 (prenatal breastfeeding education) and 10 (postpartum breastfeeding community support) of the Baby-Friendly Hospital Initiative; creating regional and national initiatives to strengthen community breastfeeding programs, such as breastfeeding clubs and Reaching Our Brothers Everywhere for men; and serving as a resource for health care providers and agencies through interactions and events such as the ROSE Annual Breastfeeding Summit.
When CHAMPS began in 2014, Kimarie and ROSE were the ideal partners for our efforts to increase breastfeeding rates in the Southern United Sates. With Kimarie as our Community Engagement Director, CHAMPS has had great success in fulfilling the community portion of our mission as stated in our name: "Communities and Hospitals Advancing Maternity Practices." ROSE works to develop a broad community network by engaging grassroots breastfeeding supporters, counselors, and community members as part of CHAMPS. Since 2014, ROSE has trained 20-40 CTs per year in locations central to CHAMPS' work, and they have provided continuing education to some of these CTs. Many of these CTs have started breastfeeding clubs in their communities, and mothers are receiving prenatal and postpartum breastfeeding education and support. ROSE also developed a data collection tool to capture data from ROSE CTs and the work being done in the field. In the past year, to support our Mississippi CHAMPS initiative, ROSE established a ROSE-affiliated chapter in Mississippi and identified a CT Leader in the state. ROSE and CHAMPS have also co-hosted breastfeeding and breastfeeding equity summits for CHAMPS hospital staff.
In addition to her work for ROSE and CHAMPS, Kimarie is currently chair of the nominating committee of the United States Breastfeeding Committee (USBC). She provides training for WIC breastfeeding staff and peer counselors throughout the southeastern states, a position she has proudly held since 2005. Kimarie recently completed a Doctor of Nursing Practice degree through Troy University, where she received the "Best Graduate Research Scholar" award in 2017. Prior to that, she completed a 3-month Community Health Leadership Program fellowship within the Satcher Health Leadership Institute (SHLI) at Morehouse School of Medicine that stressed the best practices to provide for global health equity, and provided the network and understanding to eliminate health disparities through action-oriented projects. In 2016, Kimarie received a Legacy Award from USBC for her 38 years of work in the breastfeeding arena. Kimarie is married to Dr. George W. Bugg, Jr., a neonatologist, and they are the parents of 5 adult children.
Congratulations, Kimarie! CHEER applauds your wonderful career and the impact you have had on countless lives!
ROSE website: Reaching Our Sisters Everywhere, Inc.