CHEER CHAMPION OF THE WEEK: TOURO INFIRMARY!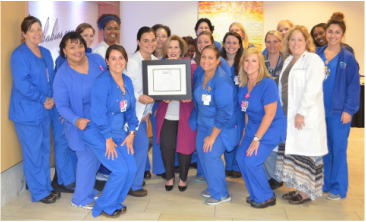 Congratulations to CHAMPS hospital Touro Infirmary in New Orleans, Louisiana, who recently earned "Gift" designation from the Louisiana Department of Health and Hospitals Bureau of Family Health! The Gift is a Louisiana-based program that provides evidence-based breastfeeding resources to hospitals and encourages the adoption of Baby-Friendly practices. To be Gift designated, a birth facility must demonstrate that it has met the criteria for the Ten Steps to Successful Breastfeeding and submit supporting documentation. Touro has met these requirements, and they are also in the Dissemination phase of the 4-D Pathway!
Kim Faught, RN, BSN, Director of Women's Services shares: "The work done for the Gift designation has complemented our journey toward Baby-Friendly designation. It allowed us to approach each step in an organized and systematic manner. As the largest birthing facility in greater New Orleans and the second largest birthing facility in Louisiana, we feel it is our responsibility to provide evidence-based care to the mothers and babies that we treat. We did not view the Gift designation as a breastfeeding initiative; it is our way to improve the maternal and neonatal outcomes." Kim, Shannon Grosch, RN, BSN, IBCLC and Tanya Robinson, RN, BSN, are the Baby-Friendly Team Leaders at Touro.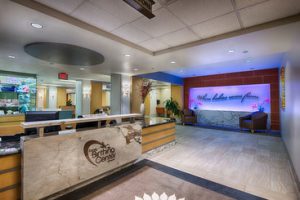 Kim shares that the Baby-Friendly journey at Touro has been "both challenging and rewarding." Their most exciting changes have been keeping babies in the mothers' rooms after labor and delivery instead of transitioning them to the newborn nursery, and supporting no separation of the mother and baby. She says the patient, staff and physician feedback about these changes has been "extremely positive." On the other hand, the biggest challenge has been the implementation of no separation after the recovery period, particularly encouraging the pediatricians to examine the newborns in the mothers' rooms. They are currently focused on fine-tuning this practice.

"Like the Gift designation, we view our Baby-Friendly journey as a way to improve the outcomes for the mothers and newborns in our community," says Kim. "It is not a breastfeeding initiative. It is our way to educate families and provide evidence-based care for mothers and their newborns."
Congratulations, Touro! We are excited to be on the Baby-Friendly journey with you!