CHEER CHAMPION OF THE WEEK: RODNEY GISCLAIR, JR., DON FALGOUT, & CODY WALKER!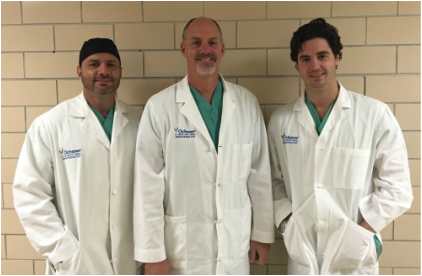 This week's CHAMPions of the Week are Rodney Gisclair, Jr., Lead CRNA, Don Falgout, CRNA and Cody Walker, CRNA, the team of Certified Registered Nurse Anesthetists who have helped to make skin-to-skin following cesarean sections a success at CHAMPS hospital Ochsner St. Anne Hospital in Raceland, Louisiana!
Crystal Risinger, BSN, RN, IBCLC, Director of Emergency Department/Intensive Care Unit & CHAMPS Team Lead, says Rodney, Don and Cody were "quick to jump onboard when we implemented skin-to-skin in the OR. They would even help out by unbuttoning mother's gown and trying to keep telemetry pads out of the way. Next when asked to assist with the transfer of mother and baby as one from the OR table to the postpartum bed they were quick to lead the way with that too. Their support helped to get other team members engaged."
"Skin-to-skin has really been a great thing to evolve here in our small rural hospital," Rodney, Don and Cody share. "Mothers bonding with their babies so soon after delivery is truly a joy to be a part of.
"The most challenging aspect of transitioning to skin-to skin was relinquishing 'our territory' to the mother-baby nurse to promote skin-to-skin. But, after the first couple of times observing mother and baby bonding so soon in such a way through skin-to-skin, it was really no big deal for us as anesthesia providers to step aside and let the bonding process begin. We are in very close proximity to mom during this time continuing to monitor mom and can easily step in and intervene if need be. On several occasions, babies have even latched on and began breastfeeding while still in the OR.
"Being involved in transitioning to skin-to-skin has been very rewarding and inspiring. Mothers are appreciative to our anesthesia staff for allowing skin-to-skin to take place in the OR so soon after delivery. Thanks and praise from our moms is very uplifting and satisfying to the CRNAs here involved in the care of moms and their newborn babies in the OR."
Ochsner St. Anne Hospital is in the Dissemination phase of the Baby-Friendly pathway and will be reaching Designation soon! It truly takes a team of providers to make a hospital Baby-Friendly!
Want to learn more? Connect with Crystal Risinger, who will be speaking on skin-to-skin in CHAMPS' Wednesday Webinar on September 21, 2016 from 11 am – 12 pm CST.
Rodney Gisclair,  Jr. will also be speaking at our CHAMPS Mississippi conference on November 17, 2016.