CHEER CHAMPION OF THE WEEK: NORA HAYES & LAVONNE LITTLE OWL!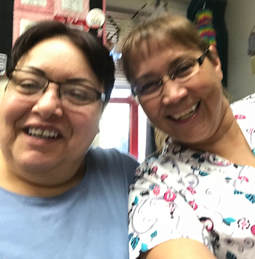 Nora Hayes, BSN, Public Health Nurse, and LaVonne Little Owl, RN, BSN, Case Manager, work at the Crow Indian Health Service (IHS) in southern Montana. They are CHEER Champions of the Week for the stellar job they are doing on the IHS "Healthy Mothers, Healthy Tribe" project out of the Billings Area IHS. CHEER is the Billings Area contractor on this project, which is funded by an Inter-Agency Agreement between the Office on Women's Health and IHS. The project aims to improve prenatal care and drug use prevention and treatment within the Crow and Northern Cheyenne Indian Tribes and the facilities that serve them.
Nora and LaVonne are working to help improve care at the Crow Service Unit by gathering and analyzing data, coordinating calls, and reporting out. Nora and LaVonne have tackled this work one goal at a time. For example, they obtained a complete list of prenatal patients at local delivery hospitals with a positive pregnancy test as well as a complete list of postpartum discharges.
"This experience was an eye opener," says Nora, "It was the beginning of a gap analysis process and, boy, did we identify some major gaps." Nora then produced a current "map" of prenatal patients' entries into the Crow IHS with the gaps noted, as well as an ideal "map," how it would ideally look for a prenatal patient to enter the Crow IHS and receive the appropriate care up through postpartum discharge. With these gaps and vision identified, Nora and LaVonne invited key stakeholders from various Crow Tribal programs and Big Horn County programs to help create a more inviting prenatal service program. They also spoke with the discharge managers at their local delivery hospitals to improve the referral system to Public Health Nursing.
"Healthy Mothers, Healthy Tribe" is just one aspect of Nora and LaVonne's work at Crow IHS. As a Public Health Nurse, Nora says she does "a little bit of everything from communicable disease, prevention of diseases, healthy pregnancies, healthy families, control of chronic diseases with a little bit of case management thrown in for good measure." She created sessions called "Birds and Bees" to educate mothers about maturity, sex and relationships. She is also Parents as Teachers (PAT) certified and conducts home visits using the evidence-based PAT Model approach. She is hoping to start elderly fall prevention and safe sleep soon.
As a Case Manager, LaVonne works closely with patients and families to provide necessary resources. She reviews patients in contract hospitals in Billings, MT and monitors them for the appropriateness of medical admissions, continued stays, intensity of services and severity of illness, as well as allocation and utilization of resources for patient care. She works closely with other case managers in contract hospitals to assist patients and their families in transitioning back into the community after hospital discharge.
Nora is an enrolled member of the Chippewa-Little Shell of Montana ​Tribe and LaVonne is an enrolled member of the Northern Cheyenne Tribe. Both women feel personally motivated to promote health within Indian communities.
LaVonne shares, "What motivates me to do my job is to go above and beyond for the Indian people, to advocate for them, to be their voice when they think they don't have one, to make sure they get the best outcomes in their healthcare as possible."
Congratulations, Nora and LaVonne! Keep up the good work!