CHEER CHAMPION OF THE WEEK: KATHY GILCHRIST & LISA EDDINGS!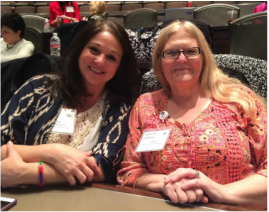 This week's CHAMPions are 2 stalwart leaders from Chickasaw National Medical Center (CNMC) in Ada, Oklahoma. Kathy Gilchrist, BS, RNC-OB, IBCLC, is Lactation Counselor and Educator and has been with CNMC for 16+ years. Lisa Eddings, BSN, RN, is Assistant OB Nurse Manager/Nurse Educator and has been with CNMC for 23+ years. Both Kathy and Lisa are on the Baby-Friendly task force at their hospital, which has worked for the past 4 years towards Baby-Friendly designation. They are about to enter the last phase of the 4-D pathway, Designation, and we applaud them on their hard work and perseverance towards this goal!
When Kathy and Lisa compare maternity practices at their hospital now to 4 years ago, the changes they see are dramatic. For example, 4 years ago, mothers and babies were separated for 2 to 3 hours in the first 4 to 6 hours after birth for the admission process and routine care. Babies were also routinely supplemented with formula simply for the sake of convenience. "Looking back now it seems so barbaric to have denied our families this most precious and most important time in their lives," write Kathy and Lisa. Now, as much care as possible is provided at the bedside and involving the family in every step. Well-term babies are placed skin-to-skin immediately following vaginal delivery and as soon as possible for C-sections, which has impacted breastfeeding initiation rates very positively. Nurses also care for the entire dyad instead of having separate nurses for mothers and babies, providing more consistency.
Patient satisfaction has also improved, report Kathy and Lisa: "Families that have had a baby with us in years prior to starting the Baby-Friendly process and that have had a baby with us today have expressed that they are much happier with the care they receive now compared to before. The most exciting change we have seen is the number of patients who choose our facility from all over Oklahoma and many other states. We recently had a mother tell us she moved here from California just to have her baby here because she had heard 'this is the place to have your baby.'"
Kathy and Lisa worked as a team on these changes, one taking the lead in a certain area and the other supporting her. They are grateful for the help and support they have received from The Trailblazers, Anne Merewood, Becky Mannel, Ingrid Dixon and Kirsten Krane.
Note: This post has been transferred from CHAMPSbreastfeed.org.  There were originally 5 comments.  You can view them in this document.