CHEER CHAMPION OF THE WEEK: GREENWOOD LEFLORE HOSPITAL'S BABY-FRIENDLY TEAM!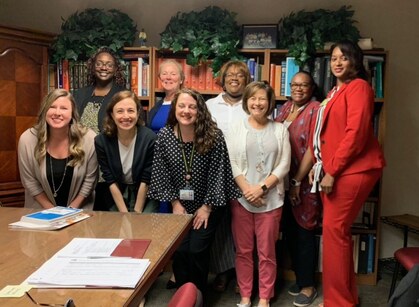 This week, CHAMPS would like to recognize the wonderful work the Greenwood Leflore Hospital (GLH) Baby-Friendly Team has been doing. GLH, in Greenwood, Mississippi, has approximately 435 births per year. They joined CHAMPS in 2015 and started their Baby-Friendly journey in 2017. Like all Baby-Friendly journeys, the journey at GLH has had its challenges, but the Baby-Friendly team has pushed through those and has been gaining a lot of momentum towards its goal.
Cassandra Brown, MSN, RN, Director of Maternal Child Health at GLH, has led the Baby-Friendly team as CHAMPS Team Leader since September 2017. She attributes their increasing success to the entire Baby-Friendly team.
"The Baby-Friendly team has done a great job assisting Greenwood Leflore Hospital with staff education," Cassandra says. "The team has done great work helping the hospital transition from one phase of the 4-D Pathway to the next. The Baby-Friendly team has been a wonderful facilitator/liaison. Each individual has been very helpful throughout our process."
The tide is turning at GLH. Cassandra says their staff is more engaged, and their breastfeeding, skin-to-skin, and rooming-in rates have improved. She says the biggest positive change has been that more African-American new mothers are now breastfeeding their babies. Two successful strategies the GLH Baby-Friendly Team has used are staff education and community engagement.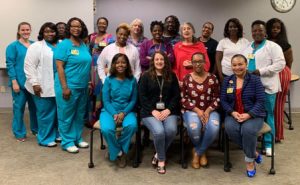 Cassandra has always prioritized having ongoing education for staff. She wants to be sure everyone has the skills to support Baby-Friendly, and she believes inviting physicians to participate is important as well. Over the past years, GLH has hosted many CHAMPS trainings, including the CHAMPS 4-hr Breastfeeding Clinical Competencies training, the CHAMPS Safe Implementation of Evidence-Based Maternity Practices training, and the CHAMPS 20-hr Breastfeeding training. These training opportunities have helped staff increase their commitment to and excitement about the Baby-Friendly journey.
Another important strategy the GLH Baby-Friendly Team has used is community engagement. They have invited the following community groups to their monthly task force meetings: Delta Health Alliance, Leflore County WIC, the Mississippi State Department of Health's Breastfeeding Peer Counseling program, and the Baby Cafés in Indianola and Greenville. They know that increased community collaboration, education, and follow-up is best for their patients and can only increase GLH's success as well.
In addition to the entire GLH Baby-Friendly Team, Cassandra would like to thank the following people who have helped with their Baby-Friendly journey: Dr. Melynda Noble, Kerri Reaves Grossman, Gloria Boyd, Amy Brower, Cara Safon, Laura Burnham, Stephanie Matlak, Nikki Lee, Maggie Allen, Carolyn Willis, Tawanda Logan-Hurt, Christine Powell, Melanie Williams, Vera Winters, and the entire GLH Maternal Child Health Department.
​
Congratulations, GLH Baby-Friendly Team, and keep up the great work!