CHEER CHAMPION OF THE WEEK: EUPHEMIA JOHN & TWILA WHITEKILLER!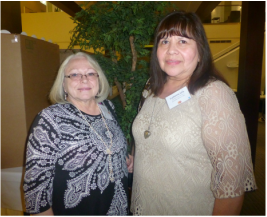 Euphemia John, IBCLC, CLC and Twila Whitekiller, IBCLC, CLC help to run an outstanding lactation program at Cherokee Nation WIC! Euphemia, Lactation Coordinator, has worked there for 31 years, and Twila, Lactation Supervisor, has worked there for 11 years. Both women are members of the Cherokee tribe.
Cherokee Nation's WIC program serves approximately 7,000 people monthly across 14 counties in Cherokee Nation in the state of Oklahoma. WIC has 12 clinic sites; 3 are satellite clinics and 7 are located in Cherokee Nation clinics. WIC also has sites within Indian Health Service hospital Claremore Indian hospital in Claremore, OK and within tribally operated Cherokee Nation W.W. Hastings Hospital in Tahlequah, OK. Both hospitals are Baby-Friendly. Euphemia coordinates and supervises Cherokee Nation WIC's breastfeeding program. WIC's 3 Peer Counselors are located next door to Hastings Hospital and supervised by Twila. The WIC program and Hastings Hospital collaborate closely, and an easy referral system is in place. Pregnant women go to WIC for one-on-one prenatal counseling, and WIC lactation staff participate in OB hospital rounds and provide follow-up postnatal care for up to one year for mothers enrolled with WIC.
Other services and programs Euphemia, Twila and their teams offer include home visits; hospital visits to families whose babies are in the NICU; a breast pump loan program for NICU, student and working moms; an annual Mother's Day reception; and annual World Breastfeeding Week and Big Latch celebrations. Both women also served on Baby-Friendly committees at nearby hospitals—Twila on Hastings Hospital's committee and Euphemia on Claremore Indian Hospital's. Claremore Indian Hospital was the first hospital in Oklahoma to become Baby-Friendly, and Hastings Hospital was the first tribally operated hospital in Oklahoma to become Baby-Friendly! Read more about Hastings here. The highlight of Twila's work with Cherokee Nation WIC has been seeing Hastings Hospital become Baby-Friendly.
Euphemia shared: "I've been very fortunate in my job. I didn't think I would stay there as long as I have. I really love the job. I guess that's the most rewarding thing I've ever done. I couldn't go anywhere else." Euphemia would like to thank their WIC Director, Brenda Carter, who trusts them to do their work and makes this work possible.
Note: This post has been transferred from CHAMPSbreastfeed.org.  There was originally 1 comments.  You can view it in this document.