CHEER CHAMPION OF THE WEEK: CAMIE GOLDHAMMER, KIMBERLY MOORE-SALAS, & ANDREA SERANO!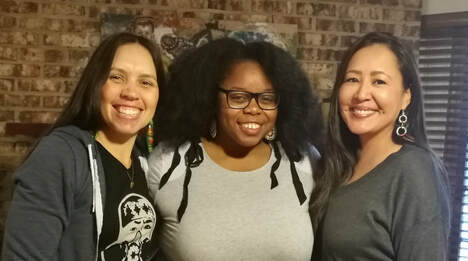 This week's CHEER Champions of the Week are Camie Goldhammer, LICSW, MSW, IBCLC, Kimberly ("Kim") Moore-Salas, IBCLC, and Andrea Serano, CLC, IBCLC. These ladies, who have all worked for the CHEER team, were recently elected as Board Directors to the United States Breastfeeding Committee (USBC)! USBC "is an independent nonprofit coalition of more than 50 nationally influential professional, educational, and governmental organizations that share a common mission to drive collaborative efforts for policy and practices that create a landscape of breastfeeding support across the United States" (http://www.usbreastfeeding.org). For Camie, Kim and Andrea to be elected as Board Directors is a wonderful recognition of their leadership in the field of breastfeeding in the United States!
Camie (Sisseton-Wahpeton), a social worker and lactation consultant, has worked as a consultant for CHEER for 5 years. She has worked for both our American Indian/Alaska Native CHAMPS and Mississippi CHAMPS programs, helping hospitals become Baby-Friendly and training health care providers in breastfeeding clinical skills. In 2017, she designed and taught the first-ever Indigenous Breastfeeding Counselor (IBC) training, and has now taught it in various Native communities in Alaska, Minnesota and Wisconsin. To read more about Camie and her interesting career, check out her 2017 CHEER Champion of the Week post!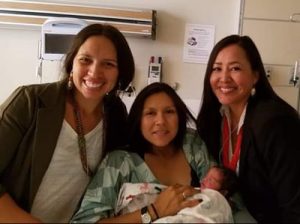 Kim (Navajo) is a full-time lactation consultant at Maricopa Integrated Health System in Phoenix, Arizona and has done private practice at Arizona Breastfeeding Center. Over the years, she has contributed to CHEER's work by co-teaching the IBC course alongside Camie. She has also been active in USBC and other breastfeeding and advocacy organizations in various capacities. Kim shared with CHEER that this year, the USBC board elected just over 60% women of color, more than they ever have.
"I'm very honored and excited to be elected," Kim shared. "I think it's important that a good representation is at the table to talk about positive change. Over the course of 4 or 5 years there has been an evolution within USBC to address issues of equity. We need to include and sustain those voices that historically have not been heard at the table. I look forward to collaborating with other board members to create equity and inclusion for unrepresented people of color."
To read more about Kim, check out her 2017 CHEER Champion of the Week post! 
Andrea is Program Director for Reaching Our Sisters Everywhere, Inc. (ROSE) in Atlanta, Georgia. In her role, Andrea serves on the coordinating team for ROSE events, trainings, and program-related activities. Since the beginning of CHAMPS in 2014, ROSE has been our key partner, and Andrea's work for ROSE has impacted CHAMPS in positive ways. She has also been a speaker at CHAMPS conferences. In addition to her work for ROSE and USBC, Andrea is also a Co-Founder and Treasurer for the National Association of Professional and Peer Lactation Supporters of Color; board member for the Georgia Breastfeeding Coalition; Stakeholder Advisory Board Member of the Emory Center for Children's Health, the Environment, the Microbiome and Metabolomics; and a member of the Center for Social Inclusion National First Food Racial Equity cohort, where she co-facilitates trainings for communities and organizations. To read more about Andrea, please visit the ROSE staff webpage!
Congratulations, Camie, Kim and Andrea, and best wishes for your term as USBC Board Directors! Thank you also to Felisha Floyd, BS, CLC, IBCLC, former CHEER Consultant, for her service to USBC!