CHEER CHAMPION OF THE WEEK: ZAHRA KOOPAEI!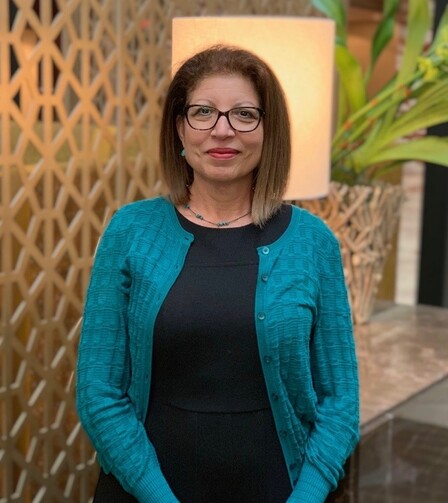 Today's CHEER Champion is Zahra Koopaei, BA, WIC Bureau Chief for the Houston Health Department. Zahra was nominated for her long and outstanding service as a proponent of breastfeeding and leader for WIC Project 26 Houston and for honoring our invitation to speak at the last CHAMPS conference.
Zahra, an Iranian native, immigrated to the United States in 1979 to join her spouse and pursue higher education. She obtained her Bachelor's Degree in Food and Nutritional Science at Texas Southern University in 1985 and worked as a dietetic technician for six years. In 1992, she joined the City of Houston – WIC Project 26 as a Nutritionist, and she has worked there for the last 28 years. In 2016, she became the WIC Bureau Chief for Project 26.
"I always love seeing how WIC can meet the needs of the community. It is rewarding to be able to support those moms who may not have anyone to understand their concerns or needs about breastfeeding." – Zahra Koopaei, WIC Bureau Chief for the Houston Health Department
Zahra has always been an ardent believer in breastfeeding, and after 27 years of working with WIC, she has observed how important breast milk is for child growth and development. The challenges she faced while breastfeeding her own sons motivated her to build a career in breastfeeding promotion and education. She is passionate about making breastfeeding training fun and interactive in a way that is compassionate and supportive of moms, especially first time moms. As the Houston WIC Chief, Zahra encourages creativity and collaboration within her department. She has spearheaded the production of multiple breastfeeding music videos and plays such as "Latch my Baby" and "Pump it Up".
Zahra finds her work at WIC rewarding and very memorable. She described how the recent COVID-19 pandemic has increased the need for WIC assistance and how apparent the role of WIC has become in the wellbeing of the community. "I was gratified to see how appreciative our clients were to receive these services, and how our team have come up with creative ways to serve the community while observing social distancing, which is hard for us because we love hugging," Zahra shared.
Throughout her career, Zahra has earned multiple accolades in her field. She is passionate about cooking, which was what led her into the Nutrition field! She loves cooking for friends and family, as well as her staff at work. She feels blessed by the progression of her career throughout the last 28 years.
Congratulations Zahra, thank you for your many years of service to Houston families through the WIC program!
Read more about Zahra's team, Houston Health Department WIC here.