CHEER CHAMPION OF THE WEEK: YILDIZ GUMUSTEKIN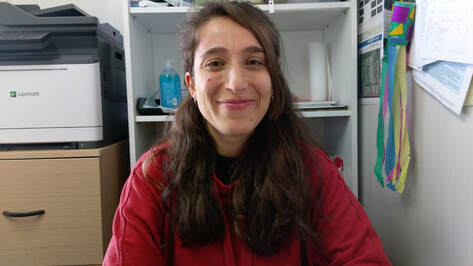 This week's CHEER Champion of the week is Yildiz Gumustekin. Yildiz works as a Protection Assistant for the Danish Refugee Council's Greek Protection Monitoring Team in Skaramagas refugee camp, and volunteers for CHEER in Greece (CHEERing). With a Bachelor of Social Work, and an expertise in Psychosocial Support and Conflict Transformation, Yildiz supports the implementation of many general protection activities in the camp, which houses around 3,000 refugees.  These include providing support and referrals for vulnerable individuals and groups, conducting assessments and focus group discussions, monitoring community-based protection networks, and more.
"None of us can change the world, but at least we can be a part of the solution to support people to gain new resiliency. I am willing and trying to encourage people to explore their capacity to access services and be more independent," says Yildiz, who previously worked as a social worker on the Syrian/Turkish border.
As a volunteer for CHEERing, Yildiz promotes and supports breastfeeding in Skaramagas camp, conducts outreach and publicity to connect more volunteers to CHEERing, and serves as our Kurmanji interpreter. When asked how she helps refugees with breastfeeding, Yildiz said, "You just need to encourage women to explore their capacity and be aware of their super motherhood skills, and raise importance of breastfeeding for self-confidence."
Yildiz is extraordinarily passionate about her work, the residents of Skaramagas camp, and her coworkers, but also described the desperation she feels when her tireless efforts to secure access to resources or services are stymied due to a lack of supplies and unfair policies. These challenges have become even more prevalent in light of the recent COVID-19 pandemic. "We have even more to do nowadays like giving correct information about COVID-19 and enlightening any misunderstandings about it," explained Yildiz. Of these particularly challenging circumstances, Yildiz said, "lt is important to continue our work in the camp because people need to know that they are not alone, and they have someone to raise their issues with when they need services onsite. We are all passing through tough times, but we must make it easy for each other and cooperate more than other days. Otherwise, we cannot overcome this situation." "We need to be more supportive and NOT leave anyone behind," Yildiz added.
Yildiz spoke of a documentary she saw years ago that inspires her work to this day, which illustrated the capacity of human beings as a bonsai tree—"If you give them a pot to grow in, they will grow like a plant, but if you give them space, they will grow like a tree."
​
Congratulations, Yildiz! Thank you for all the incredible work you do to empower those around you with the knowledge, resources, kindness, and confidence to grow into trees!