CHEER CHAMPION OF THE WEEK: WESLEY BUGG!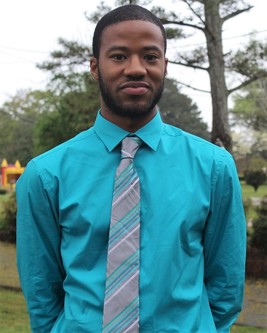 ​This week's CHEER Champion of the Week is G. Wesley Bugg, Esq., LLM, Operations Officer for Reaching Our Sisters Everywhere (ROSE) and Deputy Director for Reaching Our Brothers Everywhere (ROBE). Wesley is doing great work with both ROSE and ROBE, a program of ROSE dedicated to educating, equipping and empowering men on a national scale to positively impact African-American breastfeeding rates and infant mortality. Based in Decatur, Georgia, ROBE also operates in Mississippi, Florida, Ohio, Texas, and California. They coordinate fatherhood forums and conference presentations; connect with national projects and programs to share resources; and work with Healthy Start male initiatives in several states.
"Our goal is to promote health equity," Wesley says. "It is vital that communities have the needed resources, information and support to make informed choices on infant feeding. We know that our communities are 'resource deprived' due to many reasons including systemic racism. African-American men have not been included in the gathering and dissemination of breastfeeding and safe sleep knowledge, and therefore, pregnant women and babies of color are disproportionately ill and dying. We plan to rectify that disparity."
As Deputy Director of ROBE, Wesley communicates with ROBE's National Wisdom Council members on a weekly basis; organizes and conducts monthly video conferences; and communicates with ROSE leadership to establish and operate ROBE programs. ROBE will host a pre-summit conference, "Creating a Culture of Health Equity," at ROSE's 7th Annual Breastfeeding & Equity Summit on August 15, 2018 in Atlanta. Check out ROBE's event page for a list of other upcoming events hosted by ROBE, including community forums in Miami and New Orleans.
"ROBE was inspired by the successful work of ROSE," shares Wesley, who is a son to Kimarie Bugg, ROSE's CEO & Change Leader and CHAMPS' Community Engagement Director. "As ROSE sought to expand the circle of cultural competency, we identified a need for men to be engaged because of the value men have in our community."
In 2014, ROBE became a program of ROSE, which seeks to eliminate breastfeeding disparities among African-American women and focuses on four pillars: programs, policy, peers and partners. ROBE targets two of those pillars, programs and partners.
Wesley and Kimarie are not the only family members who work alongside each other at ROSE and ROBE. In fact, there are four Buggs who do this work: Wesley, Kimarie, Dr. George Bugg Jr. (Wesley's father), Chief of Neonatology at Grady Memorial Hospital in Atlanta, and Caleb Bugg (Wesley's younger brother), a first-year graduate student in Operations Research at the University of California, Berkeley.
Wesley is a 2016 graduate of the University of Miami's School of Law (JD, LLM) and a 2013 graduate of Emory University (BA). Prior to his work at ROSE and ROBE, Wesley worked as the Deputy Director of Court Vision International, Inc., a nonprofit that promotes youth advocacy and conflict resolution.
Congratulations, Wesley, and thank you for all you do!