CHEER CHAMPION OF THE WEEK: WANDA MOORE!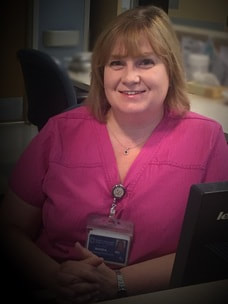 Wanda Moore, RN, IBCLC, CCE, Labor/Delivery RN, is CHAMPS Team Lead at North Mississippi Medical Center (NMMC)-West Point in West Point, Mississippi. She has worked for NMMC-West Point for 17 years with 14 of those years in the Obstetrics department. She is doing a great job leading her team through the Baby-Friendly journey! NNMC-West Point is in the Dissemination phase of the 4-D Pathway.
One of their most exciting changes, says Wanda, has been prenatal education and the responses from mothers who have captured the Baby-Friendly vision. Wanda shares: "We have just begun teaching and preparing our prenatal patients for the changes in procedures, the reasons for the changes and the benefits. Much of the teaching has been accompanied with smiles from our patients as they begin to understand that Baby-Friendly is much more than just breastfeeding. As I spoke to one mother regarding Baby-Friendly and the changes she will experience, she smiled and said, 'This is what I wanted when I had my first baby.' Another mother…after discussing rooming-in and the benefits…smiled and said, 'This makes sense. By doing all exams and procedures in the room with us, we are included.'"
Like so many CHAMPions, Wanda's personal experience motivates and informs her work in the field. Wanda confides: "When I had my children, no one spoke of breastfeeding and there was no education. Breastfeeding was very much discouraged. It was assumed that everyone would formula feed. If you decided to breastfeed, you were alone. No one knew how to help. Once you failed, a bottle was brought to the room. I want more for my patients. I do not want them to [feel] isolated or abandoned. I want them to have the ability to make informed decisions, possess skills to succeed, and leave with confidence that they can care for their baby."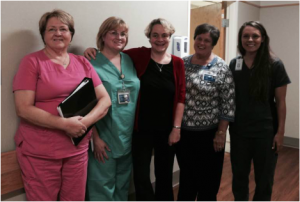 Wanda admits that the Baby-Friendly journey has not always been easy. As with all major changes, it has been "sometimes stressful for everyone involved." What makes it worth it? A strong team and an outcome that will be better for all. "We have had to look at our routines and question them," says Wanda. "Our staff is doing a great job with these transitions and I am very proud to be part of this team. The process is difficult but one that will benefit our patients and staff."
Congratulations, Wanda and team! We are excited to be on this journey with you!