CHEER CHAMPION OF THE WEEK: WAETIE-SANAA COOPER BURNETTE!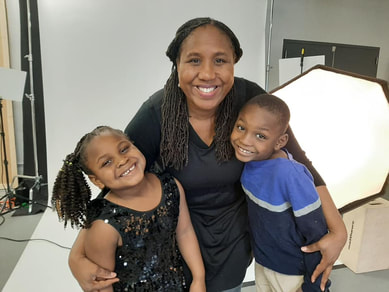 Congratulations to CHEER Champion of the Week, Waetie-Sanaa Cooper Burnette, B.A, Th.M., CLC. She is also a maternal health blogger, co-facilitator of the Baby Cafe at Codman Square, and co-founder of BreastPowered.org; a platform where art and stories are used to expand conversations about breastfeeding and the needs of BIPOC families and lactation professionals.
Born and raised in Cambridge MA , Waetie-Sanaa comes from a family of Liberian immigrants and she learned about service from a very young age, as her family helped family members from Liberia to seek asylum and resettle in the U.S. Waetie-Sanaa's passion to understand cooperative leadership models led her to study Anthropology while at Wellesley, where she won a Chinese studies scholarship to study Gender and Development at the University of West Indies in Jamaica. Throughout her career, she has worked in a variety of roles in educational and health advancement services such as: Assistant Admissions Director, Dorm Parent, Caterer, Writing tutor for Wellesley students, and 10 years as a teacher recruiter and math and English tutor to Boston's elementary school students at The Bell Foundation. Most recently, in response to her desire to share her learnings as a parent navigating both the gifts and challenges of ADHD, she has also founded Burst of Light Coaching, where leadership development, health transformation, and parenting liberation are integrated. BurstofLightCoaching.com has been a wonderful opportunity to bring all of her passion for attachment based parenting, education, and creativity into one endeavor.
Waetie-Sanaa was first exposed to breastfeeding through the moms who visited the Episcopal church nursery where she served for 10 years prior to heading to college.  Given her additional observations of breastfeeding mothers in Jamaica and how this bond could support maternal and baby wellness, Waetie-Sanaa focused her graduate thesis on ways black women can center themselves in their understanding of health and healing within the Church.  Her experience learning to breastfeed as the only woman of color attending many La Leche League meetings was as equally inspiring, as it was isolating and led her to search out organizations that focused on early parenting support for parents of color. This resulted in her choice to work as a federal home visitor for Early Headstart families where she became the go to coach for parents of all types, but especially new mothers.  During this time, she connected with Vital Village where she was named a Community Transformer, was the catalyst for Boston's first Black Breastfeeding Week, won a grant from the Boston Cultural Council, and was sponsored to become a CLC (Certified Lactation Counselor) by Vital Village.
Since the COVID-19 pandemic, Waetie-Sanaa has been named a Community Champion for her leadership as a part of the Boston Breastfeeding Coalition team that launched the Breastfeeding Warm Line,  (857) 301- 8259, a resource for parents in the Metro Boston area to receive free peer support. Waetie-Sanaa looks forward to deepening her commitment and understanding of how to help mothers heal and lead as she enters Boston School of Social Work in fall of 2021.
Congratulations Waetie-Sanaa, thank you for your commitment to breastfeeding and helping other parents do it successfully regardless of their socioeconomic circumstances!