CHEER CHAMPION OF THE WEEK: VICKI WALTERS!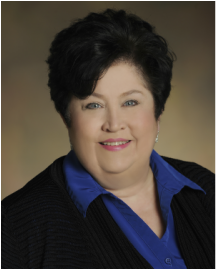 Vicki Walters RN, BS is Director of Women's Services, NICU and Pediatrics, and CHAMPS Lactation Team Lead at CHAMPS hospital Merit Health Wesley in Hattiesburg, Mississippi. She has 36 years of nursing experience. Previously, Vicki worked as Director of Women's and Children's Services at CHAMPS hospital Merit Health River Region in Vicksburg, MS. She has done an incredible leadership job at both hospitals by helping them to get on track for the Baby-Friendly Hospital Initiative! In addition, she has been mentoring other MS hospitals in Baby-Friendly practices.
Merit Health Wesley moved into the Development phase of the 4-D pathway on March 30, 2016, and are preparing to move into Dissemination in July. They have been offering continuing education for community and medical professionals on breastfeeding skills and techniques, and on July 18-20 will be hosting a 3-day CHAMPS workshop for clinicians to obtain the 15 hours of didactic training required by Baby-Friendly USA™.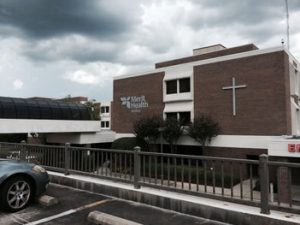 Vicki shares: "I am personally blessed to work with such a dedicated staff here at Merit Health Wesley that has already made great strides in encouraging rooming-in, support for the breastfeeding mom, and a family-centered approach to care of newborns for a healthier start in life. They have been on the forefront of this journey for a healthier Mississippi starting with newborn care. We have opened our doors to share with other health care providers in the state to come and observe our rooming-in success and encouragement of breastfeeding. We appreciate the support we receive from CHAMPS on our road to success."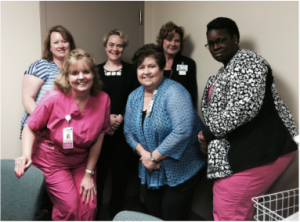 While at Merit Health River Region, Vicki worked closely with Kim Barnes, RN, CCE, IBCLC, Kathy Juve, RN, MSN, CCE, IBCLC and others. Together, they increased rooming-in time, expanded staff breastfeeding education, improved skin-to-skin practices, and collaborated with the new Mother's Milk Bank of MS by offering to become a milk depot site.
In her free time, Vicki volunteers for March of Dimes and the American Cancer Society Relay for Life. Previously, she served as President of the Mississippi Hospital Association – Mississippi Organization of Nurse Executives.
Merit Health operates 11 birthing hospitals across Mississippi, and all 11 are now on track to become Baby-Friendly designated, per Merit Health's requirement.  All 11 have entered the 4D pathway. Three are CHAMPS hospitals—Merit Health Wesley, Merit Health River Region, and Merit Health Woman's Hospital. We applaud Merit Health Systems on prioritizing breastfeeding and the BFHI for the health of their patients!