CHEER CHAMPION OF THE WEEK: VALERIE HARRIS!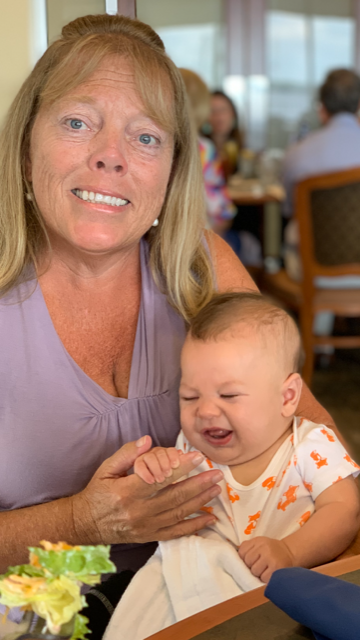 Today's CHEER Champion is Valerie Harris, LPN, CLC, and BFHI Coordinator for St. Dominic Memorial Hospital! Valerie works directly with managers on the Post-Partum, L&D, NICU, and Well Baby units to implement BFHI. She is responsible for stewardship of the project, doing the audits, and ensuring that everyone properly implements and documents the Baby-Friendly practices. Valerie was nominated for her consistently positive attitude, and unwavering commitment to the Baby-Friendly work, even during a pandemic that has impacted her both personally and professionally.
Valerie explained, "I advocate for Baby-Friendly because I believe in the power of the practices, such as skin-to-skin time with the baby. I do believe BFHI is a positive direction for our hospital, as it yields better outcomes for moms and babies"
Valerie was recruited by St. Dominic to lead their Baby-Friendly hospital initiative, after being a part of its implementation at a different hospital. Since she joined the St. Dominic team last year, they have made great progress in their pursuit of BFHI. They are now doing more skin-to-skin and rooming-in, they have more moms initiating breastfeeding and have established a solid grasp of the Ten Steps to Successful Breastfeeding.
When asked about her motivation for this work, Valerie stated that she is motivated by her knowledge that Baby-Friendly is possible, and that the changes can be made, even when others are not convinced. "I have seen BFHI play out at another hospital and that knowledge has helped me to stay positive about the changes we are trying to achieve." She also shared her initial reservations about taking on this role since St. Dominic was bigger than her previous hospital, "I was apprehensive because when I did BFHI at my former hospital, I had a lead that was telling me what to do there, but now I had to be that person."  However, now that she has gotten the hang of it, Valerie feels more at ease with the work and is very proud of the progress they have made.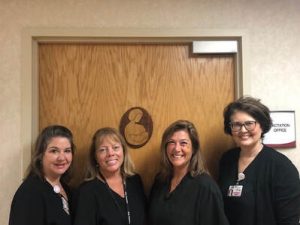 Valerie enjoys witnessing the change in moms' faces and bodies when they realize that they can breastfeed. "When you successfully breastfeed your baby, you feel in control, like you can do anything. I love meeting a mom where she is in her breastfeeding journey and providing the support she needs to overcome the next hurdle."
Valerie would like to recognize her team members, Tandy Warren, Jennifer Spong, and April Wilson for their unwavering support. She is a mom and grandmother who enjoys boating, camping, and enjoying quality time with the people she loves.
Congratulations Valerie, thank you for your leadership of the Baby-Friendly hospital initiative at St. Dominic!