CHEER CHAMPION OF THE WEEK: UPLIFTING MAMAS COMMUNITY DOULA PROGRAM!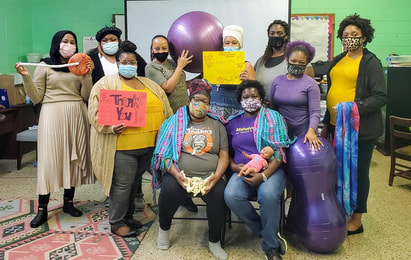 Uplifting Mamas Community Doula program was created to increase the number of persons of color doing birth and breastfeeding work in the Mississippi Delta. It is a collaborative effort between Early Dawn Birthing Services, and Clarksdale Baby University to improve breastfeeding support and maternal child health outcomes.
"We are doing this program through a grant from United Healthcare and we are going to train 20 women across the MS Delta to become community doula and provide one-on-one support during and after birth to their families, friends, and community. The other goals of the program are to increase exclusive breastfeeding beyond 3 months and increase the rate of completed postpartum visits at 6 weeks." – Chelesa Presley, CLC, Doula, CHW, Owner and Co-Founder of Early Dawn Birthing Services.
Uplifting Mamas Community Doula program recently completed its first training in February. Eight women were trained during this intensive two and a half day course, in partnership with Toni Hill, the Traditional Midwife in Mississippi and lead Midwife at Blooming Moon Midwifery Services. "As Black History Month came to an end, we set a course of rewriting the narrative of black maternal-child's health in the Mississippi Delta and beyond," Chelesa shared. "We will do some continual training with the trainees, such as breastfeeding classes through CHAMPS and some herbal training. It's just amazing!"
Chelesa also runs the Diaper Bank of the Delta, the center hub in the MS Delta for advocacy, support, resources, and compassion for families with young children. The organization seeks to lighten the emotional and financial burdens on families in need by providing emergency baby supplies like diapers, wipes, gently used baby clothes, toys and more. Their amazing work was recently featured in this Washington Post article.
Read more about Chelesa and her involvement with the CHAMPS program here.
​
You can register for the next training here or email cjpalway@gmail.com for more information.