CHEER CHAMPION OF THE WEEK: THE SILENT WARRIORS COALITION!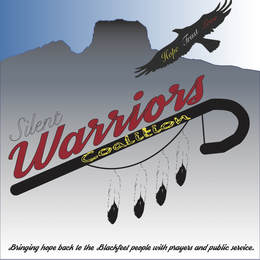 This week's CHEER Champion of the Week is the Silent Warriors Coalition, a group of community members dedicated to fighting drug and alcohol abuse in Blackfeet Nation and creating resources for these addictions and their ensuing problems of suicide, abuse (domestic, elder, sexual, child), and neonatal abstinence syndrome (NAS). They were nominated as CHEER Champion of the Week for their great work, including their invaluable participation on the Opioid Prevention Taskforce (OPT) in Blackfeet.
CHEER facilitates the OPT, which is working towards establishing a medication assisted therapy (MAT) clinic on the Blackfeet Reservation. The Blackfeet Tribe, Tribal Health, the Indian Health Service Blackfeet Community Hospital, the Silent Warriors, and many other community groups, with CHEER's technical assistance, aim to launch the clinic in the coming year at the Southern Peigan Health Center in Browning, Montana. Initially, the MAT clinic will be for mothers with opiate addictions, but eventually plans to expand services to a larger population.
Blackfeet Tribal members established the Silent Warriors Coalition in 2014 in response to the high rate of drug and alcohol abuse in Blackfeet Nation and in response to one family's personal crisis. When Diana Burd's great-nephew was born in 2014 with NAS, she and her family discovered the lack of resources to help his mother and those struggling with drug addiction in Blackfeet. The lack of resources is especially alarming considering that, according to the 2017 Blackfeet Community Health Assessment, half the babies born on the Blackfeet Reservation were exposed to drugs or alcohol during pregnancy.
"There was no detox for drug addiction, no services, nothing for drugs," says Diana, one of the founding members and Secretary-board member for the Silent Warriors Coalition. "There was an alcohol program, but it did not work to throw a drug addiction program in there. We needed a way to connect with the people who are suffering in the community and to try to help support families who need the help but are ashamed, afraid, or don't know where to go to get help."
​Shortly after their great-nephew was born, Diana's sister posted a comment on Facebook about the drug abuse crisis and the need to do something about it. A couple former drug dealers who are now recovered responded to the Facebook post saying they wanted to help. From there began the Silent Warriors Coalition, a name suggested by one of the former drug dealers who had known someone in prison who broke into a drug dealer's house and flushed his stash of drugs down the toilet. In like fashion, the Silent Warriors envisioned fighting the drug abuse crisis "silently," not by confronting drug dealers or breaking into their homes, but by quietly praying on the corners of their homes. They also envisioned breaking the silence around the drug abuse crisis within their community.
With few previously established services in place, the Silent Warriors have their work cut out for them. The Silent Warriors are involved with several initiatives to fight drug abuse and establish resources. Those initiatives include the MAT clinic; a transitional home for people to transition off drugs led by Reverend Calvin Hill (opening in the future); a school-based Community Health Representative program to educate youth about drugs and cultural trauma (many students end up calling the Silent Warriors for help for their parents who are addicted); a "Baskets for Babies" program to meet the physical needs of babies born with NAS and their families; videos to educate about the drug abuse crisis in Blackfeet made with SAMHSA grants (check out Diana's video about her great-nephew born with NAS); interfaith prayer and drum walks in the neighborhoods of known drug dealers; and a survey for community members to share ideas about what they think could help with the drug abuse crisis. They are also working to change the laws within their community to support recovery, for example to court order people into treatment.
"The drug abuse crisis in Blackfeet is horrible. This is needed," says Diana. "The Silent Warriors are promoting healing and bringing us back to our roots, to the people we are. We want to see our people healed. We have a lot of great things in our community. We want people to open their eyes and to see those things."
For more information, read this article about opiate addictions in Blackfeet.
Congratulations, Silent Warriors Coalition; CHEER applauds your work and wishes you the best!