CHEER CHAMPION OF THE WEEK: THE BLACKFEET DIABETES PREVENTION PROGRAM!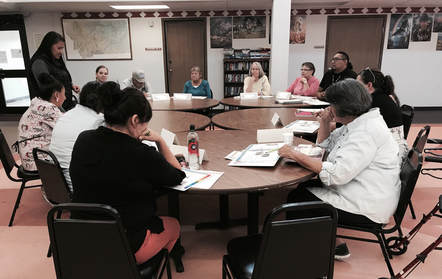 ​Congratulations to the Blackfeet Diabetes Prevention Program (DPP), for launching the first Diabetes Prevention Program in Blackfeet Nation! The Blackfeet DPP, housed at the Southern Peigan Health Center in Browning, Montana, is an evidenced-based program to help people with prediabetes prevent or delay the onset of diabetes. The program focuses on lifestyle changes such as improving nutrition, increasing physical activity, and losing a small amount of weight. CHEER provided the first 6 months of technical assistance to get this program established.
"This program is vital for Blackfeet Nation because there is a huge epidemic of diabetes here in our community and there is a need for more education and prevention programs such as the Blackfeet DPP," comments Michelle Brown, Blackfeet DPP Acting Director.
The Blackfeet DPP uses the Centers for Disease Control and Prevention's national "Prevent T2" curriculum. This curriculum has been shown to cut the risk of developing Type 2 diabetes in half. Participants receive support, guidance, and encouragement from a trained lifestyle coach in a group setting. Together, they explore how healthy eating, activity, a small amount of weight loss and other behavior changes benefit their health. Participants also receive guidance on developing a plan for improving and maintaining their overall well-being. This is a 12-month program with a total of 24 sessions.
The Blackfeet DPP's goal is to maintain at least 2-3 cohorts per year with 15-20 participants per cohort, and they are working on a great recruitment and retention plan. September 5, 2017 was the start of their first cohort.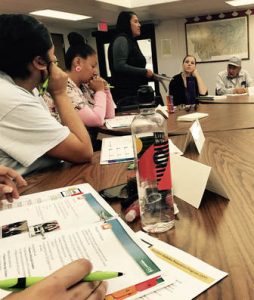 "We are having a blast facilitating the Blackfeet DPP and the most exciting part of it all is we can see our participants' lifestyle behaviors changing for the better. Our participants are enjoying the sessions and are eager to learn and share with each other their struggles and successes," shares Michelle.
In addition to directing the Blackfeet DPP, Michelle is a Lifestyle Coach (nutrition emphasis) and the Data Manager for the Blackfeet DPP. She has a Bachelor of Science in Nutrition and is working toward taking the Registered Dietitian exam. Christy Calf Boss Ribs is a Blackfeet DPP Lifestyle Coach and she also collects participants' weight and activity logs. James Evans is a Blackfeet DPP Lifestyle Coach (physical activity emphasis) and a participant liaison. These are the people making the Blackfeet DPP happen, and their dream for the future is to develop a Diabetes Prevention Program for children under the age of 18.
Well done, Blackfeet DPP, and best wishes for the future!