CHEER CHAMPION OF THE WEEK: TAWANDA LOGAN-HURT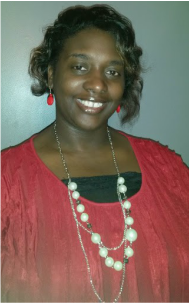 This week's CHAMPion is Tawanda Logan-Hurt, BSW, DC. A native of Greenwood, MS, Tawanda works in the Mississippi Delta, as a Breastfeeding Coordinator in District III at the Mississippi State Department of Health (MSDOH). Her passion for supporting breastfeeding moms and babies has driven her career at MSDOH for the last 9 years.
When Tawanda is not wearing her MSDOH hat, she helps out with CHAMPS in the Delta region, and was a major force behind the setup and success of the Delta CHAMPS conference and the CHAMPS Community Transformer Training, both held in the Delta in March.
Tawanda's favorite part of working on the CHAMPS team is "being able to link the hospital and community to breastfeeding and Baby-Friendly support services." Tawanda sees a great need for improving breastfeeding support, knowledge, and practices in her community.
Tawanda's goals and expectations for CHAMPS are "for all of the local Mississippi hospitals to enroll into CHAMPS and to see as many as possible become Baby-Friendly. I would also like to see the hospital staff trained and providing breastfeeding assistance to mothers after they deliver."
Tawanda is more than community advocate and consultant. She is a wife, and mother to 9 beautiful children (6 biological and 3 step children). She enjoys going to the movies, shopping, going out to eat and spending quality time with her family. Her ideal place of relaxation is Florida, where she likes the beaches, the resorts, and amusement parks.
Thanks and congratulations to Tawanda Logan-Hurt, our CHAMPion of the Week. The Mississippi Delta is one step closer to achieving its goals and objectives in the breastfeeding world because of your time, work, and dedication.
Note: This post has been transferred from CHAMPSbreastfeed.org. There were originally 3 comments. You can view them in this document.