CHEER CHAMPION OF THE WEEK: TANYA HOPPER!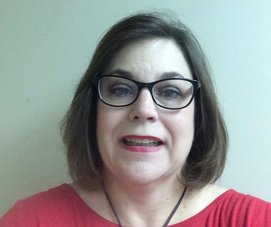 This week's CHAMPion of the Week is Tanya Hopper, CLC, WIC Breastfeeding Coordinator for the Northwest Mississippi Department of Health, District 1. Tanya has been a very vocal advocate of the Baby-Friendly Hospital Initiative (BFHI) and the CHAMPS initiative. She has a strong relationship with her local hospitals, and her staff have attended all the CHAMPS hospital trainings to discuss the role of WIC as an important resource to hospitals. She has promoted the BFHI with her 5 peer counselors who are helping to prepare mothers for the Baby-Friendly changes occurring at their hospitals.
​In the words of CHAMPS Mississippi Coordinator, Cathy Carothers, "Tanya is such a positive 'on the ground' force to get out the word of what [CHAMPS is] doing in the community." We couldn't do our work without people like Tanya!
Tanya has worked at the MS Department of Health for 15 years, first as a peer counselor and now as a District Breastfeeding Coordinator. Her role entails helping mothers with breastfeeding; teaching breastfeeding classes; providing breastfeeding assessments; ensuring devices are ordered; keeping the budget; seeing a lot of moms with premature babies; distributing pumps; and supervising 5 peer counselors. Tanya and her staff are also on the Baby-Friendly committees at CHAMPS hospitals Methodist Olive Branch Hospital and Merit Health Batesville.
"I've been so excited about all the changes that have taken place with all these hospitals [in Mississippi]," says Tanya. "It's been an answer to prayer, because I've wanted these changes for a very long time." Tanya adds that it is wonderful to hear the excitement from hospital staff when they try something like skin-to-skin for the first time and tell her, "The baby really did crawl to the breast!"
Tanya feels grateful to have such a close relationship with local hospitals. She and her staff meet with breastfeeding mothers in the hospitals, and the hospitals call them if there is a mother they want WIC to see, or if a mother of a premature baby needs a pump. The hospitals also refer mothers to WIC for breastfeeding support post-discharge. Tanya says the hospitals include WIC in everything they do, for example, nurse trainings. CHAMPS asked Tanya what the key is for having a good relationship with hospitals, and she said, "Communicating with the hospitals is really important." She and her staff are always going to the hospitals to let them know what services they offer. She said it's important to keep going back, especially because there can be a lot of staff turnover within hospitals.
In addition to collaborating with hospitals, Tanya also collaborates with local community groups Healthy Start, Delta Health Alliance, and Sav-A-Life. Lastly, she works as a CLC at the newly opened Crossroads Baby Café held at Merit Health Northwest Mississippi Medical Center in Clarksdale, MS.
Congratulations, Tanya! You are a true CHAMPion!
Note: This post has been transferred from CHAMPSbreastfeed.org.  There was originally 1 comment.  You can view it in this document.