CHEER CHAMPION OF THE WEEK: SUPREME COURT JUSTICE RUTH BADER GINSBURG!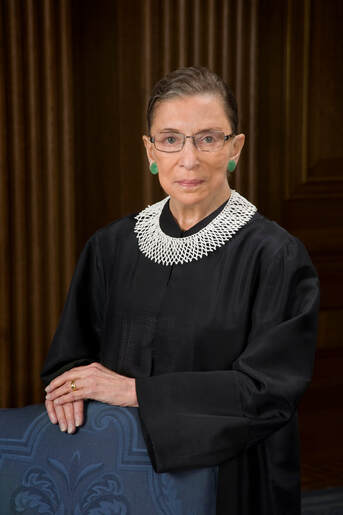 This CHAMPion of the Week post is in honor of the late Supreme Court Justice, Ruth Bader Ginsburg (1933-2020), popularly known as the "Notorious R.B.G". Justice Bader Ginsburg represented many things to many people; to us she was a hero, an unrelenting advocate for women's rights, and a symbol of true public service. RBG was appointed to the Supreme Court by President Bill Clinton in 1993, where she served as associate justice for 27 years. She was the first female professor at Columbia to earn tenure, and she successfully argued six landmark gender discrimination cases in the 70s. RBG's life was a testament to her resilience; she thrived at Harvard School of Law and other spaces despite the sexism and personal adversity she had to overcome.
In addition to her general advocacy for women's rights and gender equality, RBG also made it her mission to open doors for parents, and families throughout her career. Some of her notable contributions to progressive change for families include:
Leading the way for moms earning their law degree
Modelling equal parenting along with her husband, Marty
Arguing for the equal protection clause to apply to both males and females in 1971
Being open about how her role as a working mom fueled her success and serving as an inspiration for other working moms to pursue their goals
Championing equal pay and non-discriminatory rights of working moms
Calling out countless economic and social disparities faced by women and families in the U.S.
We celebrate the life of Justice Ruth Bader Ginsburg, we honor her service, and we are thankful to have shared this space with her. She was an advocate till the end, and we hope that we will all continue her legacy of service, positive change, and equity for women, families, and babies.
References: