CHEER CHAMPION OF THE WEEK: SHEUVUNE COOPER!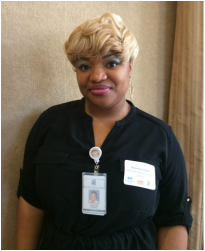 ​Sheuvune Cooper is a Lactation Specialist for WIC at the Mississippi Department of Health in Hancock County, MS. Through her position with WIC, Sheuvune splits her time between the WIC office and CHAMPS hospital Hancock Medical Center (HMC). Sheuvune also volunteers as a breastfeeding advocate in the community. Her outstanding commitment to breastfeeding makes her a true CHAMPion!
Sheuvune teaches several classes at WIC, including prenatal classes, postnatal classes, breastfeeding classes for fathers and grandparents, and breastfeeding classes for mothers returning to work. Through WIC, she also leads breastfeeding support groups at HMC for mothers who have just delivered. She also often assists mothers with skin-to-skin and the first latch. Many of these mothers are mothers she has known previously through WIC. "When they see a familiar face and it's their first time having baby, moms tend to relax," Sheuvune says. As a member of the Baby-Friendly Hospital Initiative Task Force at HMC, Sheuvune helps to educate doctors and nurses on breastfeeding best practices. She has especially enjoyed teaching staff that babies do not need formula to feel full. Sheuvune is proud to report that HMC is now doing skin-to-skin for 100% of vaginal deliveries and has taken formula out of the room; no mother receives formula in the first 24-48 hours after birth unless she requests it.
In all her free time, Sheuvune volunteers as a La Leche League support group assistant at HMC and as a breastfeeding and parenting educator at Promiss House, a program for underprivileged and homeless women in Gautier, MS. Sheuvune also helps mothers with breastfeeding questions and problems over the phone and at their homes. These mothers know Sheuvune through WIC, HMC, and some of them find her on Facebook. Sheuvune is a mother of 4 children including a set of twins; she breastfed each of them for 2 years. She attends nursing school at MS Gulf Coast Community College and is awaiting her test results for the CLC exam.