CHEER CHAMPION OF THE WEEK: SHANNON GROSCH!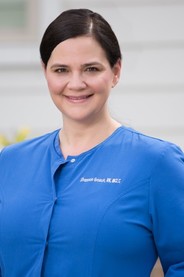 Shannon Grosch, RN, BSN, IBCLC, is a Lactation Consultant and the CHAMPS Team Lead at Touro Infirmary in New Orleans, Louisiana. Shannon has been doing an outstanding job leading her team through the Baby-Friendly journey and devising an organized system for more prenatal education. She also recently educated the public about breastfeeding by appearing on a local television station and publishing an article in New Orleans Living Magazine.
CHAMPS recently named Touro "Hospital of the Week" for earning "The Gift" designation, an award given by the Louisiana Department of Health and Hospitals Bureau of Family Health to hospitals that successfully implement the Ten Steps to Successful Breastfeeding. This award shows the wonderful progress Touro has been making towards Baby-Friendly designation.
Shannon shares, "Seeing all of our hard work at Touro come together for our patients has been incredible. Being on The Baby-Friendly pathway shows Touro's commitment to improving the quality of our maternity services and enhancing patient-centered care. I couldn't be more proud to be a part of Touro's Baby-Friendly team."
The audit tools of the Baby-Friendly process helped Shannon recognize the need for more prenatal education. She devised a creative and organized system of educating patients in the prenatal clinics of the OBGYNs that deliver at Touro. This system has involved educating physicians, midwives and staff; educating patients and families in clinic waiting rooms; and ensuring clinicians are participating in the breastfeeding education plan for each patient. Shannon uses the documents, checklists and app offered by Coffective, and says the feedback from clinicians and patients regarding this prenatal education system has been "overwhelmingly positive" and "rewarding" for her. In December 2016, Shannon was a presenter for one of our CHAMPS webinars, in which she shared her prenatal education system with other hospitals.
What personally motivates Shannon to do this work? She shares, "As a lactation consultant and mother of three children, I recognize the importance of breastfeeding for mothers and babies. I hope to reach as many mothers and families as I possibly can to ensure that all women have the knowledge regarding infant feeding to make the best, most informed decision for her and her baby. I couldn't ask for a better career or a better hospital to work for."
Congratulations, Shannon! You are a true CHAMPion in the field of lactation!