CHEER CHAMPION OF THE WEEK: SANDRA TRUMBACH!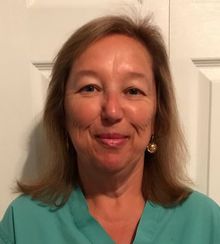 Sandra Trumbach, NNP, BC, is a Neonatal Nurse Practitioner and CHAMPS Team Lead at Hancock Medical Center in Bay Saint Louis, Mississippi. She has done an outstanding job leading her team through their Baby-Friendly journey!
Especially commendable is that Sandra gathers data for CHAMPS on every birth by going through each chart by hand. Most hospitals collect data on a random sample of births with automatic reports, but since Hancock is small Sandra believes it is important for every birth to be represented, to show any trends and to improve quality of care. For example, Sandra is looking for breastfeeding and skin-to-skin rates, but she is also interested in finding out why medically unstable babies received formula over breast milk—even 1 formula feed—to reduce that practice.
"Every woman deserves to delivery her baby in a hospital that supports Baby-Friendly practices," says Sandra. "We want to improve overall quality of care for these moms and babies. This period is crucial, and we only have them here for a short time. This is the beginning for them, and we want to get them off to the best start with the most accurate information. I personally think it all starts with skin-to-skin; that's going to go a long way towards bonding and breastfeeding. I have personally witnessed it."
Sandra says practicing skin-to-skin has been the most exciting change on their Baby-Friendly journey. At first it was challenging because "change is difficult." But once her team saw the benefits, including thermoregulation, stabilization of cardiorespiratory status, increased bonding, stabilization of blood glucose levels, increased breastfeeding rates and greater success in breastfeeding, they were "hooked." Sandra says there has been good team work among her team, and their pediatricians and obstetricians have "embraced" Baby-Friendly.
Very few mothers at Hancock refuse skin-to-skin, according to Sandra, including mothers who are adamant to formula feed. Some of these mothers, once they experience skin-to-skin and their newborns initiate breastfeeding, are "pleasantly surprised" and more open to breastfeeding. These mothers often come from families where breastfeeding is not the norm and they are the first in their families to try it. In the place of family support, they receive the support of the nursing staff. One of the advantages of being a small hospital is that a woman's labor and delivery nurse often ends up being her postpartum nurse, providing continuity of care.
Sandra has worked at Hancock Medical Center for 3 years. Prior to that, she worked at Ochsner Medical Center – North Shore in Slidell, Louisiana for 25 years in the NICU. She says this experience taught her the importance of breast milk, especially for premature, sick, or immunocompromised babies, and she carries that knowledge into her current position. As Hancock does not have a NICU, Sandra now works with mostly healthy, full-term babies, yet she still believes in the importance of breast milk for optimal nutrition, for premature and full-term babies alike.
Congratulations, Sandra! It is great to be working with you!