CHEER CHAMPION OF THE WEEK: SABRINA GANAWAY!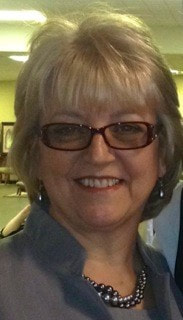 Sabrina Ganaway, our CHAMPion of the week, was born in Tupelo, Mississippi. She grew up in a small rural community, graduated high school in 1973, and later went on to pursue an Associate degree in Nursing from Mississippi University for Women in 1977. Currently she serves as an International Board Certified Lactation Consultant (IBCLC) at North Mississippi Medical Center.
"My passion in life has always been to be a missionary wherever I am, as a nurse, as a person, as a friend, to offer support and encouragement through my faith in God. My goals have usually been centered around the nursing profession, but were greatly widened and became more involved when I became an IBCLC in 1999. With lactation my goals and passions have merged, hoping to further the promotion, education, and development of young women as they become mothers, serving as mentor, friend, and "mother-the-mother" kind of nurse."
Working with CHAMPS has given her area of work a greater voice, more credibility in accomplishing policy changes, and has brought together more staff working toward the same goals in the promotion of breastfeeding as well as educating all mothers regardless of feeding choice. As CHAMPS grows, Sabrina expects "our hospital to continue making great strides toward a cohesive mother-baby care setting, but also have already enjoyed and looking forward to a more community wide effort to utilize all of our expertise on promoting mothers-babies-families. "
Sabrina spends the majority of her free time with her 6 grandchildren, their parents consisting of her own 3 children and their spouses (who she also considers to be her children), along with her husband of 42 years who is an awesome Papaw. As a family, they have taken numerous amounts of trips to Disney World throughout the years; however, one day she hopes to take a trip to Hawaii to tour the battleship Missouri, which her dad served in in the navy. Her father died when she was a teenager, and exploring more of his life holds a special connection for her.
"Being a nurse and lactation consultant has served me well, as much as I hope I have served the profession honorably. Nurse skills helped me through an eating disorder of one of my girls, helping with births, and care of my own mothers/daughters and in-laws, and grand babies; through cancer care, both in the loss of family, and the victory for the grandson who is a self-proclaimed "chemo-survivor"."
Congratulations to Sabrina for being our CHAMPion of the Week; her work and life experiences have been beneficial to the field. We applaud her efforts in helping make CHAMPS a success in her community and sharing her expertise to those she comes in contact with.
Note: This post has been transferred from CHAMPSbreastfeed.org.  There were originally 3 comments.  You can view them in this document.