CHEER CHAMPION OF THE WEEK: PAULA V. BUGG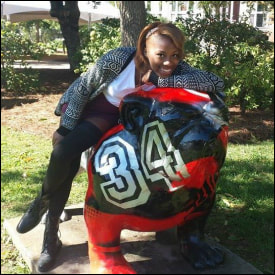 Paula V. Bugg, a true ATLien and beloved DAWG fan, is our CHAMPion of the Week! She completed her undergraduate degree at The University of Georgia and she recently received her Master of Biological Science degree from Mississippi College. Paula works as Communications and Media Coordinator for ROSE (Reaching Our Sister Everywhere). ROSE and CHAMPS work closely together to provide Community Transformers Trainings. As a member of the CHAMPS team, Paula trains with others on breastfeeding promotion, protection, and support.
"My biggest accomplishment is being able to successfully teach the moms the information given to me," says Paula. I love getting responses from moms expressing their AH-HA moments from the session that I taught." Being able to have that community involvement with mothers and others is what Paula appreciates the most. She loves how CHAMPS brings together healthcare professionals and the people of their community to educate and bridge communication gaps.
Paula says her expectations of CHAMPS are "To expand CHAMPS connections within communities. CHAMPS is currently working with hospitals across the United States AND members of the communities in which the hospitals reside. As CHAMPS continues to expand, I expect their reach to encompass professional students (nursing, medical, etc.) and schools so that CHAMPS material can be taught to future healthcare professionals."
Paula loves having plans and always moving. During the summer, she enjoys rock climbing and water rafting with friends. Pollen permitting, she loves going to the numerous outdoor festivals Atlanta has to offer, such as the Dogwood and Jazz Festival.
Paula participated in a study abroad program while at The University of Georgia. She traveled to and around Ecuador teaching elementary school aged children about forest conservation, as well as visiting the ocean, , where she saw stingrays and sharks in the natural habitat. "It was AH-mazing, I definitely want to go back"
Thank you Paula V. Bugg for all that you do for CHAMPS and you're up-beat spirit and eagerness you possess to help mothers learn about breastfeeding. Congratulations for being our CHAMPion of the Week.
Note: This post has been transferred from CHAMPSbreastfeed.org.  There were originally 2 comments.  You can view them in this document.