CHEER CHAMPION OF THE WEEK: OFELIA O'DONNELL!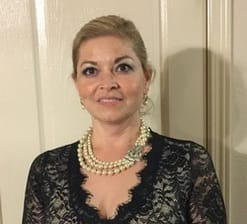 Ofelia O'Donnell, MSN, RNC-OB, is this week's CHAMPion of the Week. As Process Improvement Coordinator for Maternal Child Services and CHAMPS Team Lead at William Beaumont Army Medical Center (WBAMC) in El Paso, Texas, it is no surprise that she has been a catalyst for many exciting changes at WBAMC. The hospital recently entered the Designation phase of the 4-D Pathway, and they are gearing up for the final stages of Baby Friendly; they recently received the Texas Ten Steps Designation, a Texas-based program that provides resources and encourages the adoption of Baby-Friendly practices and designation; and this summer, they were awarded the prestigious IBCLC Care Award. We applaud WBAMC and Ofelia for these achievements and their commitment to breastfeeding!
Ofelia's enthusiasm was evident as she shared WBAMC's Baby-Friendly journey with CHAMPS: "Our Baby-Friendly journey began in 2014 with MAJ Kimberly Rosenbaum. [It] has been an exceptional learning experience and a great testament to our team work. We greatly appreciate the collaboration and guidance we have received from CHAMPS, particularly Dr. Merewood and Ms. Krane on this wonderful journey [in] making necessary changes to meet the breastfeeding and lactation needs of our patients."
Despite the challenges that come with seeking Designation, Ofelia said, "The most exciting and rewarding moment has been to not only see the changes we implemented but to hear the confirmation of the changes we have implemented directly from our patients and the positive impact it had on their breastfeeding experiences." She remarked that it has been incredibly rewarding to witness the excitement of her antepartum and maternal child staff about the new breastfeeding initiatives, and how their training has had positive outcomes for patients. Ofelia added, "It's exciting to be close to Designation but it is a reminder that we have work to do and must continue the diligent work we started for the benefit of our beneficiaries."
Ofelia has a Master's degree in Nursing Systems Management and is certified in inpatient obstetrics. As Process Improvement Coordinator, she is responsible for the development and implementation of departmental process/performance improvement, risk management, patient safety, and Joint Commission survey readiness activities within Maternal Child Services at WBAMC. In addition to these responsibilities, Ofelia is involved in the ARMY-wide Breastfeeding and Lactation Support Team and the ARMY OB Quality, Safety, and Satisfaction Forum Meeting with COL Nancy Parson, Maternal Child Consultant to the Office of the Surgeon General. She is also a member of the Binational Breastfeeding Coalition.
Congratulations, Ofelia! Keep up the great work!