CHEER CHAMPION OF THE WEEK: NURTURE PROJECT INTERNATIONAL!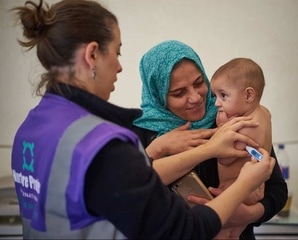 This week, we are excited to cheer on a new nonprofit doing amazing work, Nurture Project International (NPI)! NPI, founded in March 2016, supports some of the most vulnerable women and babies, those fleeing war and crisis. Currently, NPI has 2 programs, one in Thessaloniki in northern Greece with refugees predominantly from Syria, Iraq, and Afghanistan, and the other in the Kurdistan region of northern Iraq near Mosul with internally displaced persons and refugees. NPI's mission is to uphold "a safe and supported motherhood" by primarily providing lactation support, in addition to reproductive health care and nutrition support to families (nurtureprojectinternational.org). NPI helps 50-100 families per month.
It is well documented that breastfeeding is the safest feeding method for babies in emergency and crisis situations. One of NPI's outstanding recent achievements was to increase breastfeeding rates at 3 of the refugee camps they worked at in Thessaloniki from approximately 50% of women, to 100%.
NPI Media & Marketing Director Susan Greenbank shares the story of these 3 camps: "When our team first met many of the mothers feeding infant formula, the mothers often had just one bottle each, with no access to brushes or soap for cleaning. Our team met babies who were sick or failing to thrive. Our volunteer midwives and lactation consultants worked with mothers to resume breastfeeding if they had previously stopped (relactation), establish breastfeeding and/or build up their supply. We worked intensively with mothers, often checking in with each mother several times a day. We also provided a private space to breastfeed in our mother and baby tents."
In another story, from NPI volunteer Linda Roberts, a mother from one of the camps in Thessaloniki had given birth to a 3lb premie in a local hospital. Back at camp, NPI had supported her to "express milk, which her husband took to the hospital daily on the bus until baby, smaller than a sack of flour, joined his parents in the camp," which was based in "a dirty warehouse with a damp cement floor. With a tremendous amount of support this little one was gaining weight successfully on his mama's milk," when Linda's time with NPI concluded and his care passed on to other NPI volunteers.
In Greece, in addition to lactation support, NPI provides basic antenatal care and postnatal care, and distributes food and supply packs to pregnant and lactating women and children 6-24 months of age. As many of the camps in which NPI was working closed due to the cold winter, NPI now also provides mobile outreach services to families, visiting them at the hotels and apartments where they were relocated.
In Iraq, NPI is setting up its program to train local health workers and community members so they can provide appropriate lactation support in their communities. NPI also plans to work with other humanitarian organizations and the Department of Health to build capacity of their staff to identify lactation challenges and provide technical support in relactation, complementary feeding, and mothering in complex environments.
NPI's entire team is comprised of volunteer lactation consultants, breastfeeding support counsellors, midwives, and nurses from around the world, including the USA, UK, UAE, Italy, Germany, Spain and Australia. Some volunteers work on the ground for a week or 2, while others stay for weeks or months at a time. In addition, NPI has more than 30 virtual volunteers from around the world that look after NPI's business and logistical needs.
Check out NPI's website for more information and to explore volunteer and donation opportunities! Much of their work is self-funded through supporter donations, so they are always in need of donations to keep doing this incredible work. They are also always seeking IBCLC support at their camps. Watch this video celebrating their 1-year anniversary! We applaud NPI's work and feel honored to have such inspiring colleagues in our field!