CHEER CHAMPION OF THE WEEK: NIKOS VARAKIS!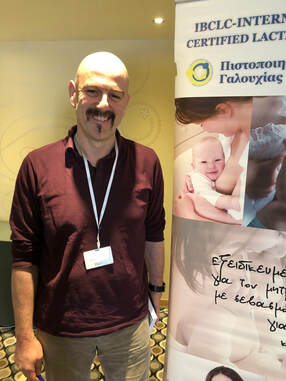 This week's CHEER Champion of the week is Nikos Varakis, MD, IBCLC, a pediatrician in private practice in Rethymnon on the southern Greek island of Crete, where he has worked since 2004.
Nikos became an IBCLC in 2011. He is a founding member of the International Baby Food Action Network (IBFAN) Greece, and was elected president of the Galaxias Greece (the Association of Lactation Consultants of Greece) in April 2019. Galaxias holds annual conferences and brings together lactation experts from all of Greece, many of whom are IBCLC doctors.
"Before I became IBCLC, I thought I was supporting breastfeeding, but really I was failing," Nikos explains. "We were never taught anything in medical school about breastfeeding, and I was giving wrong advice."
A friend encouraged him by their own enthusiasm for breastfeeding, and he was amazed at the outcomes he saw in his practice.
"I see less eczema and less bronchitis and respiratory infections. I prescribe fewer inhalers and fewer antibiotics. This is huge. I see less sick children – our work is so much better if we can prevent illness in the first place."
Nikos is the father of twins, who breastfed up to 6 months, but still he wishes he had known more and supported them to breastfeed for longer. "I wasn't aware of the longer term benefits – but now I know!" he says.
​
Nikos says his goals are to promote breastfeeding even more broadly and to grow the reach and impact of Galaxias. He also hopes to support the creation of Baby-Friendly hospitals in Crete. Congratulations from CHEER, Nikos, for your great work!