CHEER CHAMPION OF THE WEEK: NIKKI HUNTER GREENAWAY!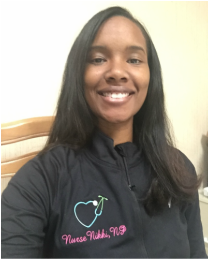 Nikki Hunter Greenaway, BSN, MSN FNP-C, CLC, is a self-titled "mompreneur," who owns a private practice, Nurse Nikki LLC, which provides both prenatal, postpartum and lactation counseling and education to families, and health consulting and CPR classes to child care centers, schools and businesses.  She is a certified Family Nurse Practitioner, a Louisiana Child Care Health Consultant, and an American Heart Association CPR Instructor in the New Orleans, Louisiana area.
Nikki also teaches a free monthly parent CPR class to families at CHAMPS hospital Touro Infirmary. She facilitates breastfeeding workshops and support groups for both Healthy Start New Orleans and WIC, and is the co-founder of Café au Lait, a breastfeeding support group for women of color.
The mission of Café au Lait is to provide a culturally-appropriate environment where pregnant and nursing moms of color can gather to educate and encourage each other about breastfeeding. Nikki co-founded the group with fellow nurse, mom and CLC Latona Giwa. Nikki says both she and Latona were constantly being approached by breastfeeding mothers of color for breastfeeding support groups. They would refer them to local groups, but the mothers reported not feeling comfortable in the groups. Their issues were not the same as the other mothers, and the times did not fit into their schedules. Café au Lait was created out of this need in the community. Nikki says, "We understand that there is a huge gap in the breastfeeding rates among blacks and whites. Our goal is to create a supportive environment that educates, embraces and encourages breastfeeding in the black community."
Nikki's most recent venture is becoming a ROSE (Reaching Our Sisters Everywhere) Community Transformer (CT) trainer. Nikki will be able train breastfeeding mothers in her community and surrounding areas on how to counsel and encourage other mothers along their breastfeeding journeys!
Nikki shares her excitement at becoming a CT trainer: "After years of attending conferences and collaborating on a number of projects including the Nursing Nook at the Essence Festival, I was invited to the ROSE office to train to teach the Community Transformer workshop to mothers here in New Orleans. I can't explain how awesome it was to be in the room and receive teachings from so many experienced black lactation advocates. A huge thank you to Mama Bugg, Mrs. Mary, Mrs. Betty and Mrs. Jerry for taking me under their wings. The CT model really brings back the idea of community women, the village, helping each other. I love this model and I think it's essential in educating the black community about breastfeeding."
Congratulations, Nikki! We are excited about the work you are doing!
Note: This post has been transferred from CHAMPSbreastfeed.org.  There was originally 1 comment.  You can view it in this document.