CHEER CHAMPION OF THE WEEK: MINNEAPOLIS-ST. PAUL INTERNATIONAL AIRPORT!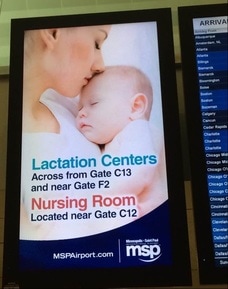 Congratulations to Minneapolis-St. Paul International Airport (MSP) for its beautiful nursing mothers' and lactation rooms!
Numerous mothers have complimented these state-of-the-art rooms. One mother said, "I LOVE your lactation room and family rooms! I wish all airports had these. Thanks for promoting breast feeding in luxury! You ROCK MSP."
"More than half of all travelers at MSP are women, many of them working mothers," says Patrick Hogan, Public Affairs and Marketing Director at the Metropolitan Airports Commission, a public corporation of the state of Minnesota that owns and operates MSP International and six general aviation airports. "They have needs men don't: the need to nurse babies or express breast milk to feed a child when they return home. And we want to address those needs in style, with sanitary, comfortable facilities designed specifically for them."
MSP International has 2 nursing mothers' rooms with a third one scheduled to open later this year. These comfortable rooms include a changing table, sink, mirrors, couch and rocking chair. In addition, the airport has 3 lactation rooms with more scheduled to open later this year. These rooms are designed to allow mothers to express breast milk, and feature a deep sink for cleaning equipment, electrical outlets, soft lighting, artwork and comfortable seating.
These facilities for mothers are just one example of how MSP International strives to "provide your best airport experience," shares Patrick. Other examples include their "green" roof, thousands of solar panels to generate energy atop the airport's parking ramps, and a program to modernize their restrooms, which garnered them the honor from Cintas of having the "Best Restroom in America" in 2016.
For more information on MSP International's nursing mothers' and lactation rooms, visit this website.