CHEER CHAMPION OF THE WEEK: MILLY BARRIOS!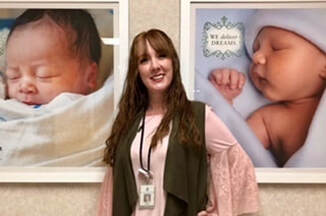 Congratulations to CHEER Champion of the Week, Millicent ("Milly") Barrios, CLC, Peer Counselor 3 for the Mississippi WIC Program (MS WIC) in the Southern Region/Mississippi Coast. Milly was nominated as CHEER Champion of the Week for her wonderful work with moms and babies on the Gulf Coast, and for her helpful contributions to a recent CHAMPS site visit at Garden Park Medical Center.
As Peer Counselor 3 for MS WIC, Milly counsels and supports prenatal and breastfeeding moms in MS WIC; educates them on the benefits of breastfeeding; prepares them for what to expect during their hospital stay; and familiarizes them with Baby-Friendly. Milly also teaches breastfeeding classes; reaches out to the community to spread the word about WIC's breastfeeding services; and collaborates with nearby hospitals on their Baby-Friendly journeys, offering WIC services to support Steps 3 (prenatal education) and 10 (postpartum breastfeeding support) of the Baby-Friendly Hospital Initiative's Ten Steps to Successful Breastfeeding.
"I don't really think of my role with MS WIC as a job," Milly shares. "It's simply who I am. I love working with women that might not be able to get support anywhere else, including from their families. I love connecting with women from all different walks of life. I love the heartfelt thank yous. One of my favorite things is teaching classes, especially when dads come and ask questions, or when a mom that's unsure about her feeding choices by the end of class says, 'I'm definitely breastfeeding.' I love all these rewards."
Milly has been a Peer Counselor for over 10 years. For 4.5 of those years, she worked in Louisiana with the Central Louisiana Breastfeeding Coalition, and Milly is proud of the work they did in their community. She has been with MS WIC for almost 6 years. Milly breastfed all 4 of her children, for a combined total of 7.5 years. She has one granddaughter who was breastfed for over 2 years, and another grandchild on the way.
Just as Milly is impacting the lives of others, her life and work have also been impacted by those around her.
"Initially I was motivated by the wonderful lactation consultants that helped me in the past, and I will always will be thankful to them for not only the support, but also for putting me on this path," she says. "But I have to say what keeps me motivated is the women that I serve in the WIC program. Opening their eyes to not only the benefits of breastfeeding, but also helping them to realize that they really can do it, and that I'll be with them every step of the way is my motivation. I often say that they help me as much as I help them."
It was lovely meeting you, Milly, and we wish you the best in your important work!