CHEER CHAMPION OF THE WEEK: MIKE GEBOE!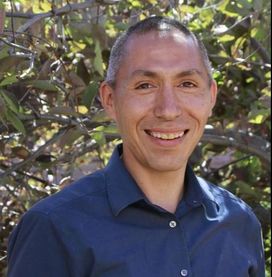 This week's CHEER Champion of the Week, Mike Geboe, MA, LAC, MAC, SAP, has been working for CHEER as a Consultant for the past year. Based in Montana, Mike has done an excellent job working in the areas of breastfeeding promotion, drug & alcohol prevention, and Native wellness. He is half Chippewa Cree and half Northern Arapaho.
Mike says the most exciting part about his work for CHEER is "the breastfeeding initiative and outreach in the Rocky Boy community from a male perspective."
In a short amount of time, Mike has done a lot to move the breastfeeding initiative forward on Rocky Boy's Reservation with the Chippewa Cree People. He has organized 5 community presentations focused on breastfeeding awareness; breastfeeding policies in the tribal workplace; information about Certified Lactation Consultants and International Board Certified Lactation Consultants; and Neiyoskwew (Cree Women) breastfeeding testimony. He also spearheaded a Proclamation accepted by the Chippewa Cree Tribal Council declaring August 2017 as Chippewa Cree Breastfeeding Month. He is promoting a breastfeeding in the workplace policy which is currently being reviewed by the Tribe's Policy and Procedure Review Team. Mike has been talking with key stakeholders about breastfeeding promotion and, along with the Chippewa Cree Wellness Coalition, started a Chippewa Cree Breastfeeding Taskforce.
In addition to his breastfeeding work on Rocky Boy's, Mike has provided technical assistance for the Methamphetamine/Suicide Prevention Initiative and Domestic Violence Prevention Initiative for the Indian Health Service in the Billings Area Office. He is also involved with the Community Health Assessment on the Northern Cheyenne Reservation and the Healthy Mothers, Healthy Tribe project on the Northern Cheyenne and Crow Reservations. CHEER works on contracts providing technical assistance for these various projects.
Prior to working for CHEER, Mike held various positions related to public health. He was the Executive Director of the Office of Victim Services for the Chippewa Cree Tribe; the Project Coordinator for a HIV Prevention SAMHSA Grant at Stone Child College; a Clinical Supervisor/Addiction Counselor for the White Sky Hope Center for the Rocky Boy Health Board; and a Psychology Course instructor at Stone Child College. He also worked as a School Psychologist at the Arlee School System in Arlee, Montana. He holds current licensure as a Licensed Addiction Counselor (LAC) in the state of Montana, a Master Addiction Counselor (MAC), and a Substance Abuse Professional (SAP) for the U.S. Department of Transportation.
What personally motivates Mike to do the work he does? "Role models who have had an impact in my life," he says. "I credit my family and extended family for being supportive in my endeavors."
Congratulations, Mike! It's great to be working with you!