CHEER CHAMPION OF THE WEEK: MESHAWN TARVER SIDDIQ!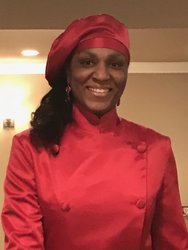 Meshawn Tarver Siddiq, Founder/Executive Officer of H.E.R. Institute, MPH Candidate, and Co-Founder/Volunteer of the CHAMPS NOLA Baby Café™, is this week's CHAMPion of the Week. The CHAMPS NOLA Baby Café opened June 1, 2016 as Louisiana's first Baby Café, a vital community resource offering free lactation support to pregnant and breastfeeding mothers. Meshawn has been instrumental in starting and running the Baby Café, which meets weekly on Wednesdays in New Orleans.  She connected the Baby Café with the National Birth Equity Collaborative (NBEC), which houses the Baby Café in their office free of charge. Currently, she assists mothers alongside Co-Founder/Director Portia Williams, RN, BSN, IBCLC, CCHC, in addition to coordinating grant proposals, establishing partnerships, and developing materials and promotion.
"I'm happy that the Baby Café is in the community bringing more access to a great resource," Meshawn says. "I love the setup of the Café. It's very warm and welcoming and, thanks to community partners, we have great resources for the moms…I feel good that the women get professional help, sisterly support and praise for their accomplishments. I am proud that we are creating a model that is going to strengthen the impact of breastfeeding in so many ways."
Meshawn started working in the field of breastfeeding almost 14 years ago. During that time, she has participated in many breastfeeding programs and initiatives that work both at the individual and policy levels. She is Founder of the Greater New Orleans Breastfeeding Awareness Coalition (GNOBAC) and H.E.R. Institute. Meshawn says she founded the GNOBAC out of a desire to unite breastfeeding professionals to work together in strategic ways. H.E.R. Institute promotes breastfeeding and other health initiatives as they relate to the non-profit's mission to "inspire, educate and support women and their families along their journey to a healthier life through Health, Education and Research services." Currently, H.E.R. Institute is partnering with the NBEC, whose mission it is to "reduce Black maternal and infant mortality," to assist with the education and research aspects of NBEC's work.
Just as important to Meshawn is her personal promotion of breastfeeding among her family and friends. She reflects, "[Breastfeeding] was unheard of in my family. My mother [and] grandmother [did not] breastfed their children. So I'm happy to be the one who is called in those times." Meshawn breastfed all 3 of her daughters, and tandem breastfed her last 2, nursing each past their second birthdays and exclusively for the first 6 months.
What does Meshawn love most about the work she does? She shares, "H.E.R. Institute, NBEC and Breastfeeding with Ease, LLC and so many others are working to provide the necessary change [within our community]. I'm a firm believer in collaborations and loyalty, so I love the great black women I work with. They are so awesome!!! We help each other professionally and personally every day. What I love most about the work is how we are building up each other."