CHEER CHAMPION OF THE WEEK: MERIT HEALTH HOSPITAL SYSTEM!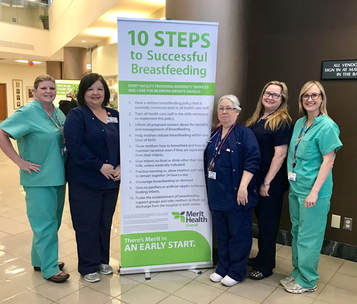 This week's CHEER Champion of the Week is Merit Health hospital system (MHHS), for their outstanding progress towards seeking Baby-Friendly designation for their 8 birthing facilities in Mississippi! Each of these CHAMPS facilities is doing excellent work incorporating Baby-Friendly changes and supporting each other along the way. They are a wonderful example of what an organized effort can do!
CHEER spoke with Sherry Pitts, RN, MHA, CEO of Merit Health Woman's Hospital and Rene Simpson, BSN, IBCLC, Lactation Coordinator and CHAMPS Team Lead at Merit Health Woman's Hospital. Both women have been active in helping MHHS navigate the Baby-Friendly pathway, Sherry as an administrative leader who oversees the process and Rene as the Baby-Friendly lead at Woman's Hospital. Rene also attended a CHAMPS "Train the Trainer" training, which enables her to provide the Baby-Friendly-required, clinical competency training to MHHS staff.
Sherry and Rene identified their system-wide monthly conference calls as a key strategy in helping MHHS become Baby-Friendly. Present on these calls are the CHAMPS Team Leaders from each hospital; some Chief Nursing Officers; CHEER Project Director Laura Burnham, MPH; mother-baby subject matter experts from Community Health Systems, an umbrella system over MHHS; and Sherry, who leads the calls. For the agenda, hospitals share successes and gain support around challenges. They also identify areas where they desire more education, and Laura expands on that topic in the following month's call.
"To be on the monthly calls and support each other has been a good learning experience for all of us. It's been a good team effort. Expanding on various topics during the calls is also going well. Rooming-in was one topic that was very helpful to everyone," says Sherry.
Rene agrees that the monthly calls are a key time for support. "One hospital might be working on skin-to-skin, another hospital on rooming-in," she says. "It's good to communicate with each other."

​In between calls, hospitals update a shared "Baby-Friendly Designation Milestone Tracker," e-mail each other on questions, and interact with CHAMPS staff. Sherry also shares the Tracker with MHHS President & CEO, Steve Dobbs, FACHE at their meetings every other week. Having this ongoing, "interactive conversation" between hospitals and with administration has allowed this project to succeed, says Sherry.
Another key ingredient to success that Sherry and Rene noted is having people who feel responsible for making Baby-Friendly happen. For example, it has been essential to have someone in Sherry's role who oversees the process and has accountability over it. It has also been essential to have people in Rene's role who feel responsible for Baby-Friendly within each hospital.
It is a joyful celebration when any hospital goes Baby-Friendly. When an entire system goes Baby-Friendly, that joy is multiplied because of the impact it will have on that many more mothers and babies. Congratulations, MHHS, for the impressive strides you are making to accomplish that!