CHEER CHAMPION OF THE WEEK: MELODY SHARP!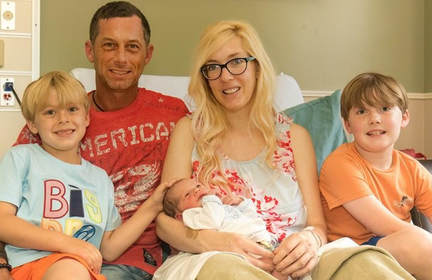 ​This week's CHEER Champion of the Week is Melody Sharp, BA, Owner of Living Foods Wellness Café in Oxford, Mississippi. Melody was nominated as CHEER Champion of the Week for her determination to exclusively breastfeed all 3 of her children despite significant challenges she has faced! Melody is the daughter of Cathy Carothers, BLA, IBCLC, FILCA, CHAMPS Mississippi Liaison & Trainer, and Co-director of Every Mother, Inc.
Melody is the mother of 3 beautiful, breastfed boys, ages 8, 6, and 4 months, but breastfeeding them has been far from easy. Here's a rundown of the obstacles Melody has faced: 3 C-sections; milk delay with Baby #1 who had to go to the NICU and was supplemented; major milk protein allergies with Baby #1 and #2; poor latching and weight gain issues with Baby #3. Baby #3 is Levi, born May 16, 2018, and it took 2 months of Melody's perseverance to finally settle into a smooth breastfeeding routine.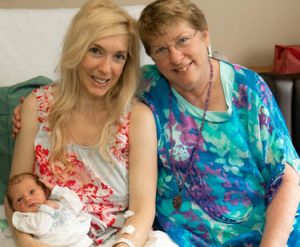 "You would think you know what you're doing by the third but each baby is different," Melody shared with CHAMPS in August. "He had slow weight gain and trouble emptying the breast. So I had to pump after each feeding and supplement with that. Some days were better than others confidence-wise. I called my mom frustrated more than a few times, but I knew I wanted to keep nursing so we just kept at it. It has finally gotten better and we are at a place where we just enjoy each other now, but it took a lot of work to get here."
Thankfully, Melody had the support of her mom and of Sabrina Ganaway, RN, IBCLC, a Lactation Consultant at CHAMPS hospital North Mississippi Medical Center in Tupelo, where Melody delivered Levi. For the first few days when Levi was having a hard time latching, Sabrina helped feed Levi Melody's pumped milk from a syringe and tube instead of a bottle which may have later interfered with breastfeeding.
​"Sabrina was amazing!" Melody said. "She was extremely encouraging and patient, and full of good ideas."
​For Melody, other bright spots amidst a challenging start included rooming-in with Levi and that her husband, James, got to do skin-to-skin with Levi while she was recovering from her C-section.
James' words capture just how much skin-to-skin can mean to fathers: "Doing skin-to-skin with Levi meant everything to me. Holding Levi on my skin at birth was like a father instinct just suddenly kicked in or maybe I was rewired at that moment. It's as if we came into a place of oneness. As I gazed upon him, I remember being in awe of how beautiful he is and how he instinctively knew to root around looking for momma's milk. I feel like that moment primed him to be ready for Melody to nurse him."
elody's commitment to breastfeed her children eventually paid off, and it also brought her into her current profession. Melody decided to open Living Foods Wellness Café after breastfeeding her first 2 who had severe milk protein allergies and her second son developed gluten-intolerance, all which forced her to become very educated about food.
"I decided to open my store to give people with allergies a safe eating out option and an alternative for those who just want to eat well. We've been open 4 years now and I just love it," Melody said.
Congratulations, Melody! Your story is inspiring and CHAMPS wishes you the best!