CHEER CHAMPION OF THE WEEK: MELISSA BROWN-BURKES!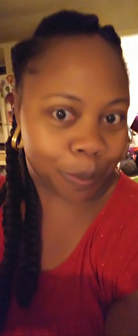 This week's CHEER Champion of the Week is Melissa Brown-Burkes, MS, BS, Peer Counselor II for Mississippi Department of Health's WIC Breastfeeding Program (Jackson and George Counties). Melissa has over 5 years of breastfeeding work experience, in addition to the experience of breastfeeding her 4 children. We would like to thank her for her recent wonderful participation at CHAMPS site visits at newly enrolled Singing River Hospital in Pascagoula, Mississippi and Ocean Springs Hospital in Ocean Springs, Mississippi!
"What I love the most about being a WIC Breastfeeding Peer Counselor is helping mothers and families make an informed decision about feeding their baby and/or babies," shares Melissa. "'Plant the seed. BREASTFEED!' is my motto and I enjoy planting that seed in the clinics and in the community."
As WIC Peer Counselor II, Melissa's responsibilities include contacting patients prenatally and postnatally to offer breastfeeding and nutrition education, and a "listening ear if needed." She also educates health department staff, other healthcare professionals, and the community; teaches infant feeding classes to her patients and the community; and offers one-on-one consultation whenever requested.
Melissa says she is motivated to do this work because of the positive breastfeeding relationship she established with her 4 children and her knowledge that giving mothers "positive and passionate support" can make all the difference in helping them meet their breastfeeding goals. She is inspired by her grandmother who exclusively breastfed all 12 of her children, in addition to the children of mothers who did not have a big milk supply.
Melissa shares, "I felt I may not possess many riches to give my babies but I have the best nutrition on Earth to share with each of them."
In addition to working for WIC, Melissa teaches infant feeding classes for Promiss, a nonprofit located on Mississippi's Gulf Coast offering prenatal care and counseling, and parenting and sexual health resources to women at no cost.