CHEER CHAMPION OF THE WEEK: MARINA LIAKIS!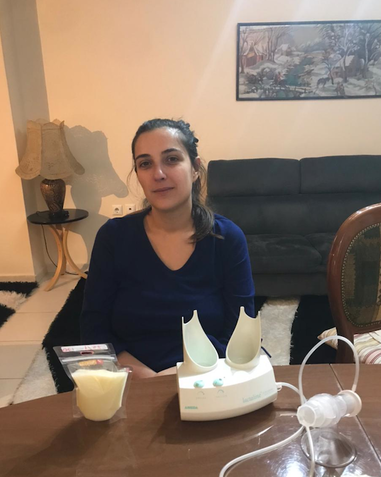 This week's CHAMPion is Marina Liakis, a French/Greek national who runs the Orange House and Tastes of Damascus to serve the refugee population in Greece, and has collaborated with CHEERing on various projects.
Recently Marina had a baby in Greece and has become a breastfeeding advocate and supporter after learning a great deal through her personal experience.
"Being pregnant while living in Greece made me realize the lack of support for women who wish to breastfeed their children. Throughout pregnancy I kept hearing urban myths such as "women who give birth by cesarean section do not have milk." In the hospital where I gave birth, women were provided with formula right away if they were struggling on their first days with their babies"
"I got lucky because I had a supportive atmosphere in my personal life as regards breastfeeding. When I found out that it was possible to donate your milk to help other babies, I wanted to help right away! I am really proud to donate my milk!" So far Marina has collected 7 liters of her milk in order to donate at Athens' lactarium.
Congratulations Marina, thank you for your service to refugee populations and for donating your milk to help babies in need!