CHEER CHAMPION OF THE WEEK: MAJOR KIMBERLY ROSENBAUM!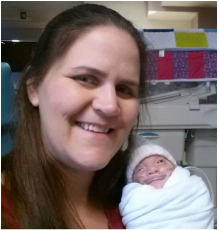 Major Kimberly Rosenbaum, MSN, RNC-OB, IBCLC, is a Maternal Child Clinical Nurse Specialist, Baby-Friendly Task Force Leader, and CHAMPS Team Lead at William Beaumont Army Medical Center (WBAMC) in El Paso, Texas. WBAMC is in the 3rd phase (Dissemination) of the Baby-Friendly 4-D pathway and was designated a Mother-Friendly Worksite on January 15, 2016. Mother-Friendly Worksites are businesses that proactively support employees who choose to breastfeed their infants.
Kimberly was nominated as CHAMPion of the Week for providing outstanding Baby-Friendly team leadership and for creating a beautiful postpartum patient education plan to help her staff know who is responsible for providing certain pieces of education throughout the hospital stay. Her exceptional plan template is the basis for the one that CHAMPS uses with all of its hospitals when they enter the Development (2nd) Phase of Baby-Friendly.
"The postpartum education plan is a one-page document that shows all the essential elements that must be taught and assessed throughout a postpartum woman's hospitalization," says Kimberly. "I had reviewed many of the Baby-Friendly and CHAMPS documents to compile the necessary information. The first draft was horrible and intimidating. As I cleaned it up (and elicited some much appreciated help from Kirsten at CHAMPS), the document really came together. I added columns to show who was responsible for each element (L&D Nurse, Pediatrician, MBU Nurse, etc.) and another column for where to document these elements. We are now using this to guide our work plan and education on the unit. This helps everyone easily see what the overall plan is for each postpartum patient."
Kimberly believes "breast milk is best for every baby" and that many women desire to breastfeed and just need education and support to achieve their goals. She breastfed all 4 of her children and exclusively pumped for her daughter, Caitlin, until she passed away at 13 months. She was also able to donate 3,102 ounces of milk to Mothers' Milk Bank Austin. Congratulations, Kimberly, you are a true CHAMPion!
Check out Kimberly's postpartum education plan below! (coming soon)
Note: This post has been transferred from CHAMPSbreastfeed.org.  There were originally 4 comments.  You can view them in this document.