CHEER CHAMPION OF THE WEEK: LISA SPRING!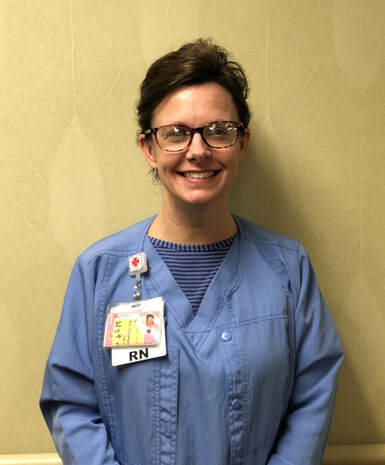 Our CHEER Champion this week is Lisa Spring, RN, Certified in Inpatient Obstetrics, and OB Charge Nurse at King's Daughters Medical Center (KDMC). She was nominated for being an amazing supporter of the Baby-Friendly Hospital Initiative at her facility.
"I enjoy working on the unit because it is very family oriented and community supported. The Baby-Friendly initiative and our 3 year journey to designation really helped establish an even stronger bond that I am happy to be a part of," shares Lisa.
Lisa first joined the Labor, Delivery, Recovery, and Postpartum unit of KDMC in 1998. Prior to this, she worked for a few years in a geriatric-psychiatric setting, but she always knew L&D was the goal. In her 20 years at the facility, she has enjoyed being able to contribute in various ways to the birthing experience of moms. As the OB Charge Nurse, she works closely with all the nurses to assist in educating moms on the benefits of breastfeeding and implementing immediate STS following all types of deliveries. "I tour expecting mothers through our department as part of the prenatal education class, to give them an opportunity to familiarize themselves with the department and know what to expect during their delivery," states Lisa.
Lisa reports that the BFHI was initiated at KDMC by Blue Cross Blue Shield, Mississippi, and their push for maternal quality improvement. "When it was first introduced, I was reluctant to accept the change because it meant work process changes and I was uncertain about how the community would receive such changes," she expressed. Over time, she was able to overcome those uncertainties once she witnessed the benefits of skin to skin and other baby-friendly practices. She declared that Baby-Friendly practices are now well supported within the facility and the community at large.
When asked what motivates her work, Lisa expressed that she is inspired to do this work because she loves mamas, families, communities, and enjoys witnessing the miracle of birth. "I feel happy to be able to bring calmness, reassurance, and comfort to first time moms who are afraid and do not know what to expect," she shares.
In her spare time, Lisa enjoys traveling and spending time with her grandchildren.
Congratulations Lisa, thank you for your commitment to improving the birthing experiences of mothers at your facility!