CHEER CHAMPION OF THE WEEK: LEANNE MURRAY!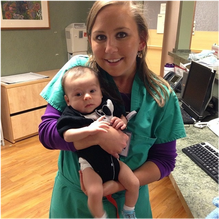 Congratulations to our newest CHAMPion, Leanne Murray! Since Hancock Medical Center enrolled with CHAMPS, Leanne has been a huge motivator in their push to increase skin-to-skin rates. Leanne currently runs simulations for Labor and delivery staff to learn about and to get comfortable with practicing skin-to-skin. Leanne also aided in creating and unveiling the Lactation Station at Hancock Medical, a comfortable, designated breastfeeding room created for the privacy of mother and baby.
Leanne is a Registered Nurse at Hancock Medical Center, and is also pursuing her graduate degree in the Family Nurse Practitioner program at the University of Southern Mississippi. Prior to graduate school, Leanne obtained her Bachelor's degree in Nursing from the Mississippi University for Women and her Associate's degree in Nursing from Pearl River Community College.
Leanne lives in Bay Saint Louis, MS, with her husband, Alex, and their two black labs, Susie and Abbie. Her hobbies include running, cooking, reading, and traveling. If she could travel anywhere in the world, Leanne would travel to the Croatian Coast for its "beautiful landscapes" and "delicious seafood creations." She would "like to travel there before it becomes too popular and loses some of its charm!"
Leanne loves being part of the CHAMPS team because of the support it offers, stating, "The access to information, team members, and other resources is wonderful and I love working with a team that is this passionate about Women's health!" Leanne expects that as the CHAMPS program continues, Hancock Medical will continue to work toward achieving their goals of increased community support for breastfeeding mothers and making skin-to-skin and breastfeeding the norm throughout their hospital.
Note: This post has been transferred from CHAMPSbreastfeed.org.  There were originally 5 comments.  You can view them here and here.