CHEER CHAMPION OF THE WEEK: KIMBERLY MOORE!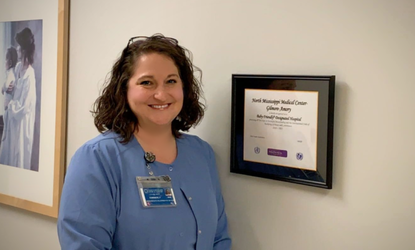 Congratulations to CHEER CHAMPion of the Week, Kimberly Moore, RN, and Director of the Women's Center for NMMC Gilmore-Amory! In her role as director, Kimberly maintains the Baby-Friendly hospital initiative and the MS Perinatal Quality Collaborative (MSPQC) bundles. She also oversees the labor and delivery, NICU, nursery, and postpartum units; among other duties.
During the pandemic, NMMC Gilmore-Amory put many policies, such as visitor limitations, in place to help protect staff and patients Though they only had one COVID positive mother deliver at their facility, Kimberly says the visitation restrictions "seems to have helped mothers the most" because "the mothers get rest and bond more with the newborn." She has also led the charge as the Women's Center staff have continue to uphold their BFHI practices, such as skin-to-skin and rooming-in.
"Nothing really changed about our BFHI practices during the current COVID-19 pandemic, except that mothers are more accepting of them now." – Kimberly Moore, RN
When asked what she enjoys about her role, Kimberly shared that she loves watching the transformation on mothers faces the first time they meet their baby. "I am motivated to prioritize Baby-Friendly when I see how the things we have in place, such as skin-to-skin, golden hour, and rooming-in, all help the mother to be comfortable and confident with her newborn at discharge." Kimberly also expressed that she takes a lot of joy in watching a mother, who made a timid decision to breastfeed, become so confident and committed to breastfeeding during her stay. "Seeing how empowered they are in the decision at discharge really makes my heart smile."
Outside work, Kimberly is a mother to two very active children. Her son, Harrison, is on the archery team, shooting team, a band member and loves to go hunting with his mom. Her daughter, Susanna, is just starting her band career, loves to play soccer, and absolutely adores animals.
Congratulations Kimberly! Thank you for being such a positive advocate for breastfeeding, Baby-Friendly, and high quality maternity care at your facility.
Link to NMMC Gilmore-Amory designation post: https://cheerequity.org/cheer-champion-of-the-week/cheer-hospital-of-the-week-nmmc-gilmore-amory