CHEER CHAMPION OF THE WEEK: KIMBERLY MOORE-SALAS!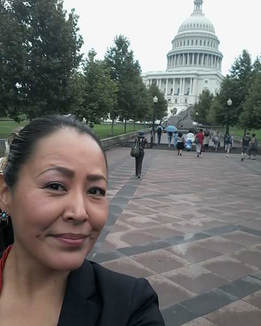 Kimberly "Kim" Moore-Salas, IBCLC, an enrolled citizen of the Navajo Nation, is a rising star in the field of human lactation and a dedicated advocate for Indigenous mothers, babies and families. She works as a full-time Lactation Consultant at Maricopa Integrated Health System (MIHS) in Phoenix, Arizona and in private practice at Arizona Breastfeeding Center. Kim works with tribal communities across the United States and advocates for them on a local and national stage in collaboration with a cohort of Indigenous midwives and lactation consultants.
Kim shares, "During my journey to obtain my [IBCLC] certification I realized my mentors were all non-Native, and they were all great mentors and supporters, especially Sue Murphy whom I miss dearly. What wasn't taught to me via my mentors was the history of Indigenous people, the importance of culture, and the integration of our cultural and traditional values in breastfeeding. I have seen how western colonialism has changed and continues to change the landscape for our Indigenous Mothers via the impact of historical trauma through industrialization, broken treaties, and forced/coerced assimilation policies. My primary heartfelt motive is to reinstitute our values in raising healthy babies and families. Many of our communities which have fallen to social ills need healing, and one of the best places to start is with the women of the community and the youth, in this case very early childhood development."
Kim is a leading promoter of breastfeeding with a focus on Indigenous mothers and babies. She is an active participant in the U.S. Breastfeeding Committee (USBC), a nonprofit coalition of more than 50 professional, educational and government organizations supporting breastfeeding across the United States. Her roles with them have included Tribal Trailblazer Scholarship recipient, through which she helped USBC increase their commitment to diversity, equity and inclusion; conference planning committee member; and currently Tribal Liaison, through which she provides feedback and recommendations to the committee regarding Indigenous breastfeeding. "This [summer] was the 7th conference and the 1st time [USBC] opened the conference with a Native American drum group acknowledging our Native women awardees for their work in Native communities," Kim proudly shares. She was elected to be next year's co-Chair for the conference planning committee.
Additionally, Kim serves as Vice President for Central Arizona Lactation Consultants Association; serves as co-Chair for the MIHS Lactation Committee; is becoming involved with the birth center lactation program at Changing Woman Initiative; participates with the Indigenous Birth Workers Network; collaborates with Mewinzha Ondaadiziike Wiigaming; and will be co-facilitating a workshop on "Building Community Support for Breastfeeding" at the First Things First Early Childhood Summit in Phoenix on August 29, 2017. All this in addition to Kim's job at MIHS, a Level I hospital, Level 3B NICU with an average of 2,500 deliveries per year!
​CHEER is pleased to announce that Kim will be co-teaching our AI/AN CHAMPS Indigenous Breastfeeding Counselor training course in Barrow, Alaska on September 18-22, 2017, alongside CHEER Consultant Camie Goldhammer, LICSW, MSW, IBCLC. This course, designed by Camie, is a breastfeeding clinical competency course geared towards American Indian/Alaska Native professional communities. Camie and Kim hope to teach the course in tribal communities all over the country.
Congratulations, Kim! You are a true CHAMPion!