CHEER CHAMPION OF THE WEEK: JORDAN KELLAR!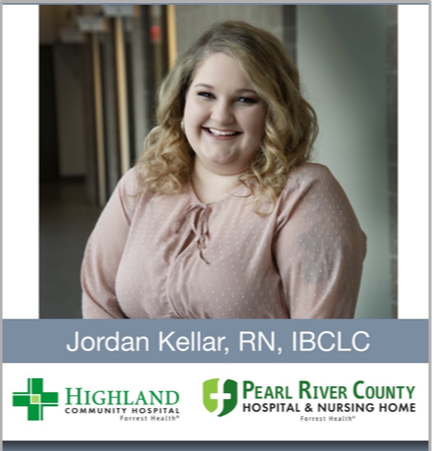 This week's CHEER Champion is Jordan Kellar, ADN, RN, IBCLC at Highland Community Hospital in Picayune, MS.  In her role as a lactation nurse, Jordan provides lactation counseling to patients both in the hospital and post discharge, and leads the breastfeeding task force at Highland. She also helps to maintain the hospital's Baby Friendly practices by continuing to educate staff and personnel.
Since the COVID-19 pandemic began, Highland has had to make changes to accommodate potential cases. Though her role has not changed drastically, in the sense that she provides the same services to patients, Jordan reports that spouses and support persons have been coming in less educated before and there have been fewer return lactation visits. "This education for our community is even more important than ever because people no longer attend breastfeeding classes and the staff has been doing a lot more re-educating and re-instructing," shares Jordan. To tackle this issue, she has spearheaded in-service trainings with nursing staff to ensure they are prepared to provide the extra education. She also shared that her team is in the process of starting the hospitals' breastfeeding classes, since she believes community education is what they struggle with the most.
Jordan's work is motivated by her absolute love for women's health and neonatal care. She knew she wanted to work in OB since nursing school, as her mom was also an OB nurse. However, she did not find her love for lactation until after she had been working for a few years. "The more I learned about lactation, the more fascinated I became. I knew that was a field I wanted to grow in," she states.
In addition to her work at the hospital, Jordan runs a personal community lactation Facebook page, "Lovely Lactation", which has been so helpful for mamas to reach out and get advice or assistance. Prior to the pandemic, mothers would mostly contact the hospital directly with their questions, but since the pandemic began, moms increasingly contact Jordan via this page with their feeding questions. "All of the staff now refers feeding mothers to that page since it is the easiest way to get a response to them, the moms are using it as a tool now than before" she states. Besides providing help through direct messages, Jordan regularly facilitates discussions around common breastfeeding problems and topics, where she answers pressing questions that moms have around feeding.
Congratulations Jordan, thank you for being such a consistent champion for breastfeeding even in the face of COVID-19!