CHEER CHAMPION OF THE WEEK: JOHN PURVIS!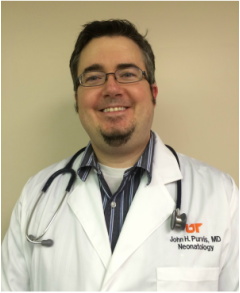 John Purvis, MD, is an Assistant Professor at the University of Tennessee Health Sciences Center, a Pediatrician at Regional One Health in Memphis, Tennessee, and an American Academy of Pediatrics Fellow. He is also one of the CHAMPS Pediatrician Physician Leads at Regional One, where he has been promoting better breastfeeding practices and championing rooming-in. We are honored to be working with John and thankful to him for speaking at 2 of our recent conferences (September 11, 2015 in Tupleo, MS and November 12, 2015 in Jackson, MS).
John and the Regional One team have made great strides in establishing rooming-in. Most exams now occur in patient rooms. Beginning January 1st, mothers and babies will no longer be separated during the transition from labor and delivery to postpartum, but remain together for the associated exams and travel. This change is an important step towards John and the team's vision for maternity practices at Regional One, where ideally mothers and babies would not be separated except for medical reasons and breastfeeding rates would increase. John reported a 14% exclusive breastfeeding rate this month (while mothers and babies were in the hospital), up from 9% last month.
John meets weekly with a Baby-Friendly committee, and Regional One entered the Discovery phase of the 4-D pathway in June 2015. Congratulations and best wishes on the Baby-Friendly journey!