CHEER CHAMPION OF THE WEEK: JEROME (JERRY) KLEIN, MD!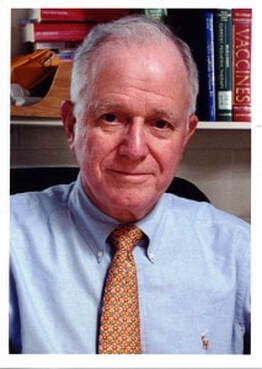 In celebration of his life and in honor of his legacy, this week's CHEER CHAMPion is Dr. Jerome Klein, Emeritus Professor of Pediatrics at Boston University School of Medicine and former Chief of Pediatric Infectious Diseases at Boston Medical Center. Dr. Klein was an internationally renowned leader in pediatric infectious diseases, professor, and researcher, who was well-known throughout BMC as a mentor and role model for generations of physicians.
Dr. Klein's career spanned over 50 years in patient care, research and teaching at Boston Medical Center. His many honors include the Bristol Award for Distinguished Achievement of the Infectious Diseases Society of America and the Maxwell Finland Award for Scientific Achievement from the National Foundation for Infectious Diseases. He was passionate about big band music, jazz, theater, Boston sports teams and spending time with his family at his home on Wingaersheek Beach.
Dr. Klein passed away on February 17, 2021 and he will be fondly remembered in the hearts of many BMC staff for his support, mentorship, and leadership. His legacy of medical and scholarly excellence and leadership at BMC will be remembered through the annual Jerome Klein Award for Physician Excellence, established in 2011.
Link to Dr. Klein's obituary h​ere